How often should you bathe your baby?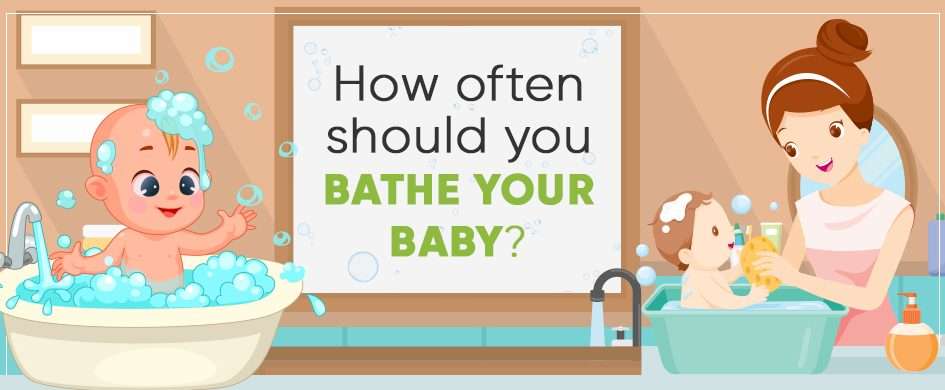 Certain things in baby handling are nerve-wracking and amongst them, one is bathing a newborn. However, this can be a great time to bond with your baby. No matter whether you are bathing your baby for the first time or you're a Pro in baby handling, some questions are always common when it comes to newborn. One is - how often should I bathe my newborn baby?
Earlier, it was suggested to bathe a baby right after its birth, but now the concept is changed. According to the World Health Organisation (WHO), it is good to wait for at least 24 to 36 hours as it helps in keeping newborn's body temperature steady and aids in healthy skin development. Although it is more likely that your newborn baby will get its first bath at the hospital itself by the nurses, you can ask them as well for the tips and suggestions on bathing a baby.
How often do babies need a bath after their birth?
Newborns do not require an everyday bath as they do not sweat, hence thrice in a week is good. However, sometimes due to diaper rash, pooping or vomiting, it becomes essential to bathe them with warm water to make them feel fresh and comfortable.
Excess bathing can make a baby skin dry and rough, hence so that skin doesn't get drier and also maintain baby's hygiene, a sponge bath can be given on a regular basis. However, you should follow these below-mentioned safety tips for sponge bathing a baby.
BABY SPONGE BATH SAFETY TIPS -
Bring all necessary items nearby to you. These items can be your baby's bath towel, soap or baby wash, sufficient warm water, and a hand towel or a small soft cotton cloth which you can damp.
Be comfortable and relaxed. Additionally make your baby feel comfortable too. Prefer that position and location of your house wherein both of you are safe and comfortable.
Start from the face and then slowly towards the neck. Do not give much pressure else your baby may feel irritation due to the damp cloth. Be gentle and soft.
Once you're done with the sponge bath, immediately wrap your baby with his/her dry bath towel to keep him/her warm. Do not keep its body open for a long time.
When is a baby ready for a regular bath?
Once the umbilical cord has fallen off naturally and the naval area is healed, you can shift to bathing your baby regularly. Although, you must make sure that your baby's bathing time should be safe, gentle and comfortable. You may see your newborn protest against his first bath, hence in this case, give him extra time to transit easily from a sponge bath to a regular bath. Go for a sponge bath for some more days, and once you see your child happy and playful with water, and then shift towards a regular bath.
Do not splash the water directly upon his face.
Keep all necessary things handy or easy proximity to your reach.
Do not be harsh while applying baby soap/baby wash.
Make sure soap or shampoo does not get into his eyes, if it happens by any chance, rinse off his face gently with fresh water. But do not panic.
Sit comfortably and hold your baby safely. Be attentive at his every move.
Do not force your child to sit by itself at the time of bath. This can lead to several accidents.
Make sure you check water temperature with the help of your elbow before you start your baby to bathe. This will help you to understand the actual warmth of the water.
Remember your baby should feel safe and comfortable during its bath time. After all, this is a great time to bond and create memories.
---