What is Swarnaprashan
Swarnaprashan is a powerful gift of Ayurveda First described in Kasyapa Samhita to improve immunity in children, It is a 100% Ayurvedic product with no artificial chemicals or preservatives. Daily dose of Swarnaprashan progressively improves immunity, memory and oratory skills and increases hunger, promoting a holistic growth in children enhancing focus and attention span. It helps in detoxification of the body and aids in digestion. It also prevents recurring cold, cough and fever, helping children to grow up into strong and healthy individuals. With ingredients like Swarna bhasma,Brahmi, Shankhpushpi, Vacha and Majistha, it helps the body of a child to properly heal and prevent illness.
सुवर्णप्राशनं हि एतत् मेधाग्नि बल वर्धनम् ।
आयुष्यं मंगलं पुण्यं वृष्यं ग्रहापहम् ॥
मासात् परम मेधावी व्याधिभिर्न च दृश्यते ।
षड्भि मासै: श्रुतधर सुवर्ण प्राशनात् भवेत् ॥
(काश्यप संहिता, सूत्रस्थानम् 18/4-5)
The benefits of administering small quantities of Swarna bhasma are:
• Medha Vardhana – improvement in intelligence
• Agni Vardhana – improvement in digestion
• Bala Vardhana – improvement in strength and immunity
• Ayushya Vardhana – Improvement in life expectancy
• Mangala, Punya – Auspicious
• Grahapaha – protects from bad effects from planets
• By administering Swarna for a month's time after birth, child becomes super-intelligent
• By administering for up to six months, person becomes Shruta Dhara – can remember whatever the child hears

Reduce your Kid's Hyperactivity with Swarnprashan drops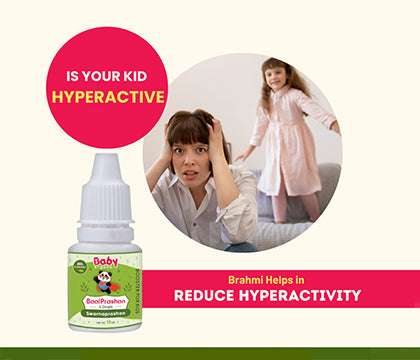 What is Pushyanakshatra?
Pushya is considered as most auspicious among other stars, they call it "The Star of Nourishment". It means it provided nourishment like a how a mother take care of their kids. Administrating drugs on this day seem very effective in terms of action. Since, Swarnaprashana, main ingredient is ash of gold. Gold is said to have maximum potency on the day of Pushyanakshatra said to be a good day to administer swarnaprashan.

Ideally Swarna Prashana should be started from Pushyanakshatra day and then there after can be given daily early in the morning, but if not possible to give daily at least it should be given on consecutive Pushyanakshatra days which tends to come after every 27 days.
Gold has the maximum potency on the day PushyaNakshtra
Consumption of Swarnprashan on Pushyanakshtra will effect the most
It is a 5000-year-old Ayurvedic formulation that is approved by modern medical science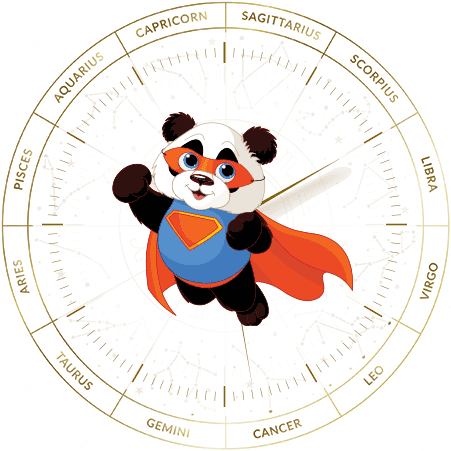 What Makes Us Different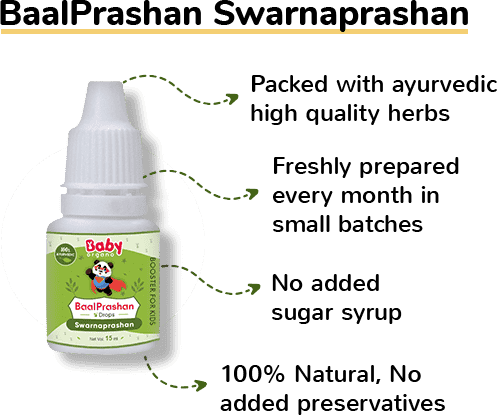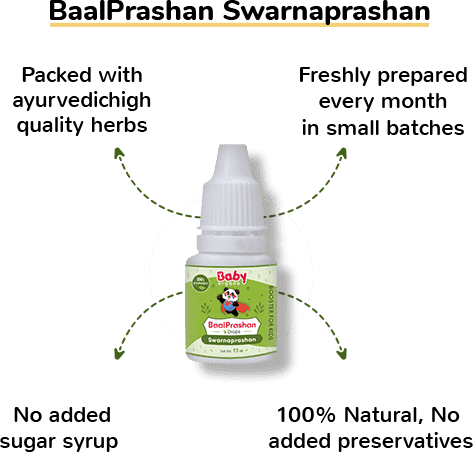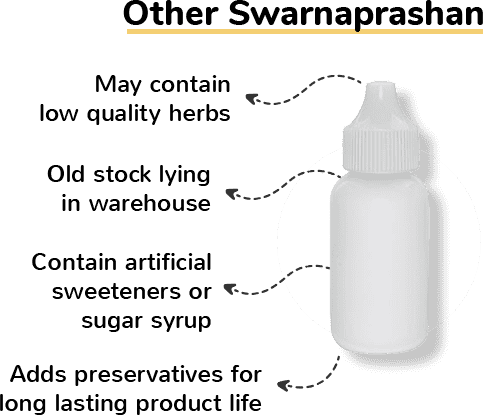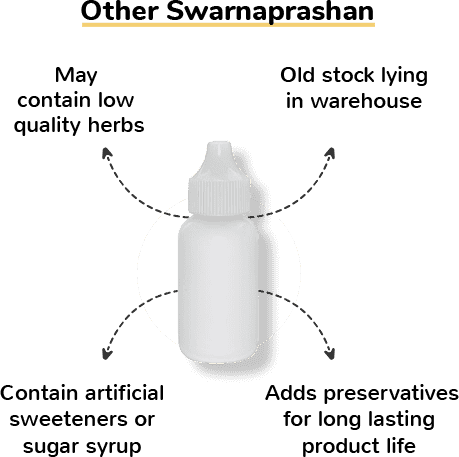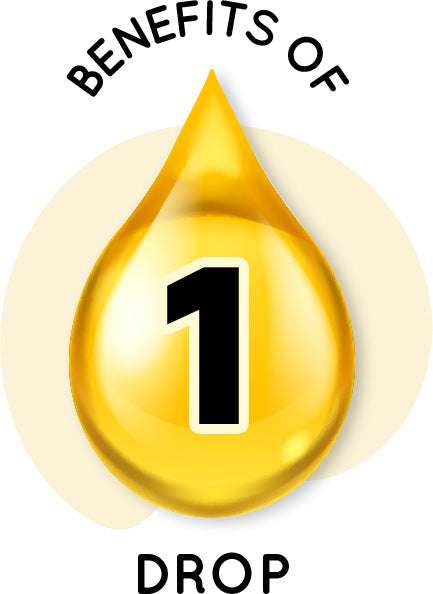 Swarna Bhasma
Swarna Bhasma is traditional Ayurvedic medicine used in India for centuries to treat week immunity, appetite, and nervous system.

Shankhpushpi
Shankhpushpi is a perennial herb that helps to manage digestion and constipation, improves mental health and lowers the risk of epileps.

Brahmi
Brahmi is one of the most beloved mental rejuvenatives in the Ayurvedic pharmacopoeia. It helps boost brain function, enriched with antioxidants, reduce ADHD symptoms (hyperactive, impulsivity, and inattentiveness).

Manjishtha
Manjishtha is considered to be one of the best blood-purifying herbs. It helps in quick healing of the wound, decreases swelling and brings back the normal texture of the skin.
Swarnaprashan makes your Kid Immune from Seasonal Illness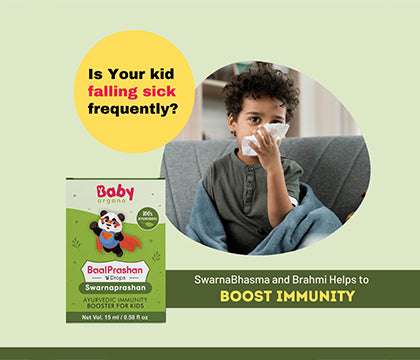 Here's Why you can Trust us!
1
Clinically Proven Herbs
BabyOrgano Baalprashan Swarnaprashan is made with Ayurvedic herbs which is clinically proven for its magical health benefits.
2
Quality Assured
BabyOrgano Baalprshan Swarnaprashan is approved by the ministry of Ayush and FDCA. and made in GMP and ISO certified facilities.
3
Free from Preservatives
BabyOrgano Baalprashan Swarnaprashan is free from all kinds of preservatives, artificial colors and sweeteners and made with 100% authentic Ayurvedic Herbs.
4
Easy To Use
BabyOrgano Baalprashan Swarnaprashan is in drop form to easily measure the dosage and it tastes like honey so kids can adopt the sweet taste easily.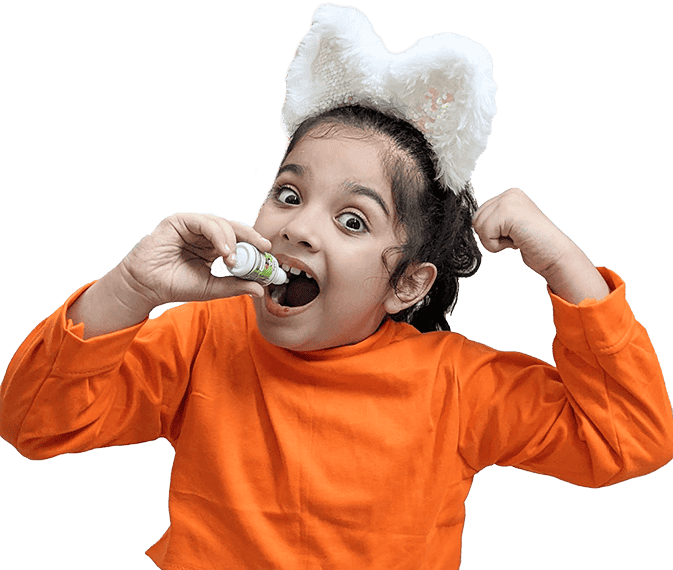 Reasons to Love Us
100% Ayurvedic

Natural Ingredients

No Preservatives

No Side Effect

Safe for kids
Improves Memory and Concentration of your little Einstein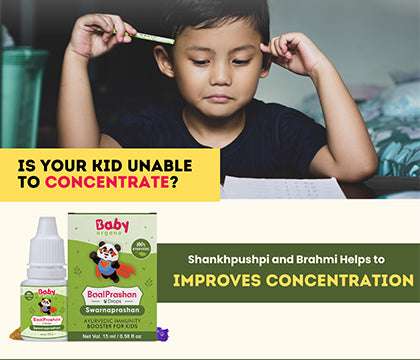 Try the miraculous Swarnaprashan, which is trusted and loved by parents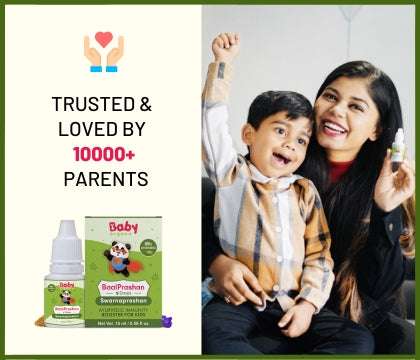 Frequent Asked Questions
What is Pushyanakshatra?
Pushyanakshatra is considered very well to perform all auspicious activities and considered auspicious according to Hindu religion. The rays emitting on the Pushyanakshatra day doubles the medicinal values present in Gold. As BaalAmrut has Gold Ashes it improves overall body growth of babies.
I want to know more about Baalprashan.
Baalprashan Swarnaprashan (suvarnaprashan) is an immunity booster drops intended for the children of age 0 to 15 years. Its key ingredients carefully develop a strong immunity in kids which acts as a protective shield against the seasonal diseases. It progressively improves excellent memory and effective concentration.
Is Swarnaprashan has any side effects?
No Swarnaprashan has no side effects as its made with Ayurvedic Herbs
How to Use Baalprashan Swarnaprashan Drops?
Baalprashan Swarnaprashan drops can be given regularly on an empty stomach every morning or on Pushyanakshatra. Do not serve any food for the next 15 minutes.
What is the Dosage of swarnprashan according to the kid's age?
For 0-1 Years | 1 Drop on Pushyanakhtra
0-5 years | 1 Drop Daily
5-10 years | 2 Drops Daily
10-15 years | 3 Drops Daily
What are the health benefits of taking Swarnaprashan every day?
It is good habit of taking Suvanraprashan(Swarnaprashan) every day because it develops strong immunity in kids which acts as a protective shield against the seasonal diseases. It progressively improves excellent memory and effective concentration.
Do you make Swarnprashan only on Pushyanakshtra or on other days?
Yes, every batch of Our Baalprashan Swarnaprashan Drops are specifically made by checking Nakshatra and Time.
Till what age does Swarnaprashan need to give?
Swarnaprashan should given till the age of 15 years only
Customer
Love
Over 10000 reviews