Nutritional Ayurvedic Milk Mix made with Ashwagandha, Brahmi, Satavari and 15+ Ayurvedic Herbs. No Refined Sugar and 100% Ayurvedic. Ayush and FDCA Approved.
Regular price
₹ 1,398.00
Sale price
₹ 1,146.00
Unit price
per
Sale
Sold out
EXTRA 5% OFF
on
PREPAID ORDERS
by using Debit/Credit Card/UPI
Share
KEY INGREDIENTS & BENEFITS

✅ Ashwagandha : Improves Height & Weight
✅ Satavari : Make Bones Strong
✅ Punarnava : Improves Functions of Nerves and Brain
✅ Brahmi : Improve Resistance Power to fight illnesses
✅ Gokshur : Help to brain functioning
✅ Tulsi : Vitamin C & Zinc Boost your Immunity
✅ Kumari (Aloe vera) : Rich Vitamins & micro-nutrients
✅ Bhrungaraj : Improve Digestion & Appetite.

View full details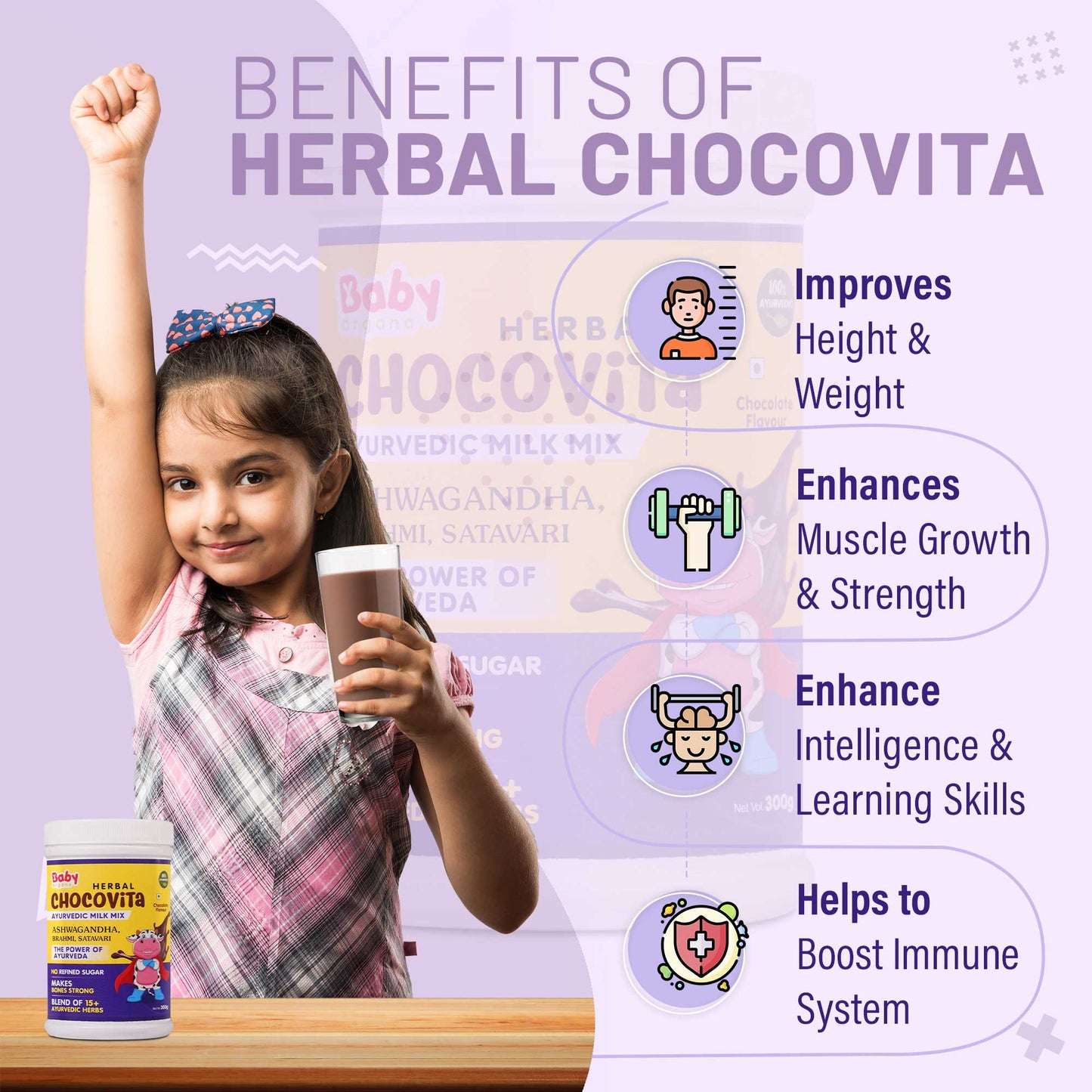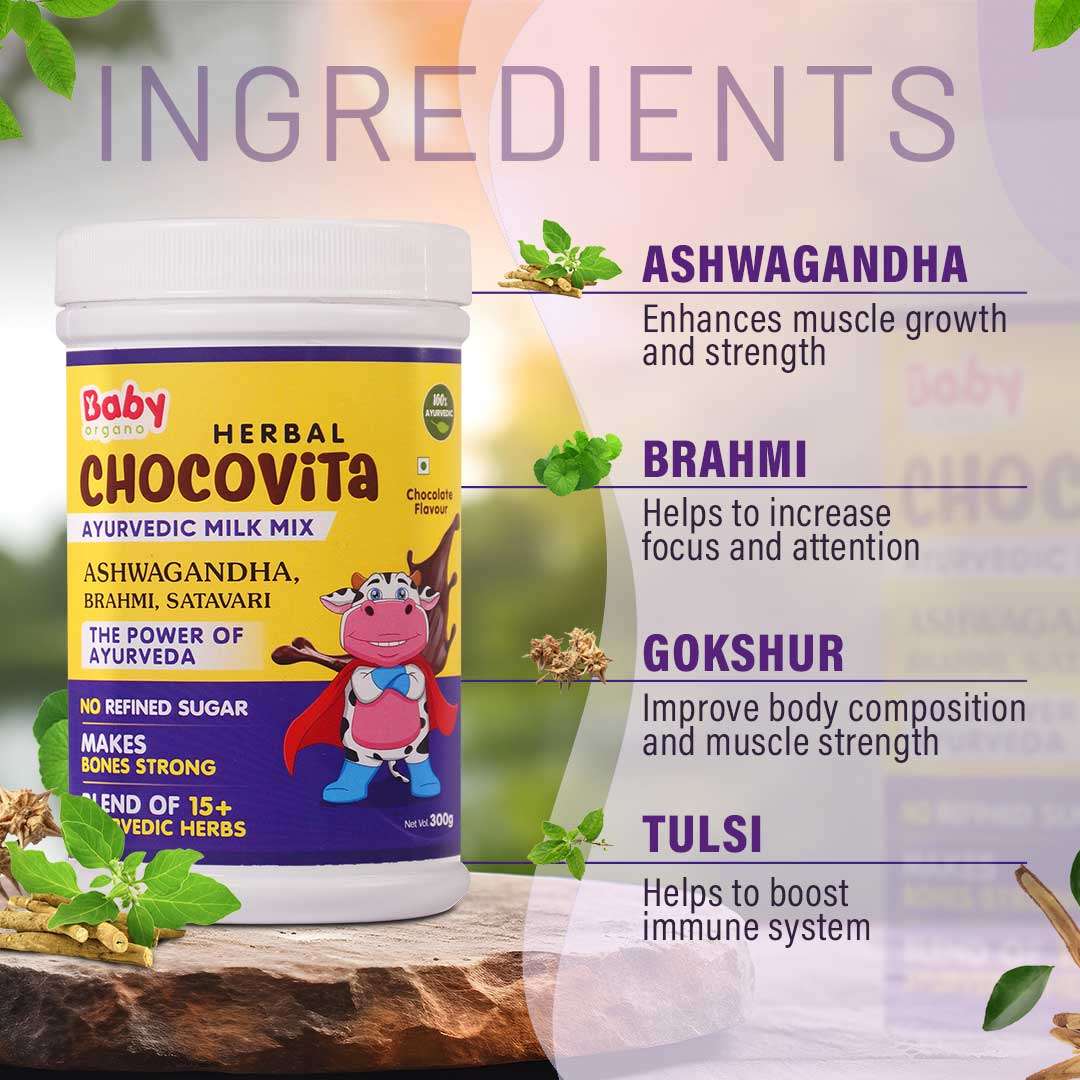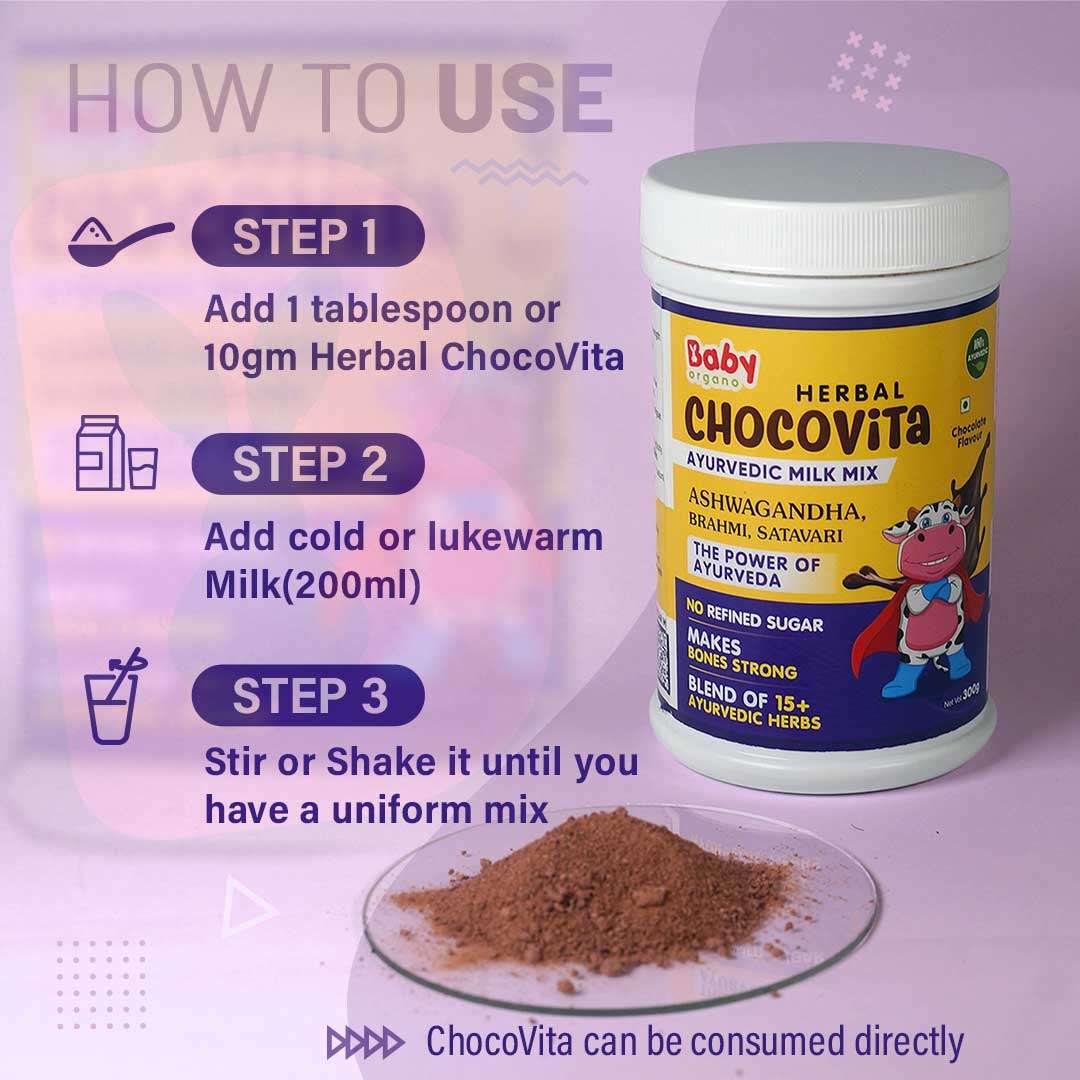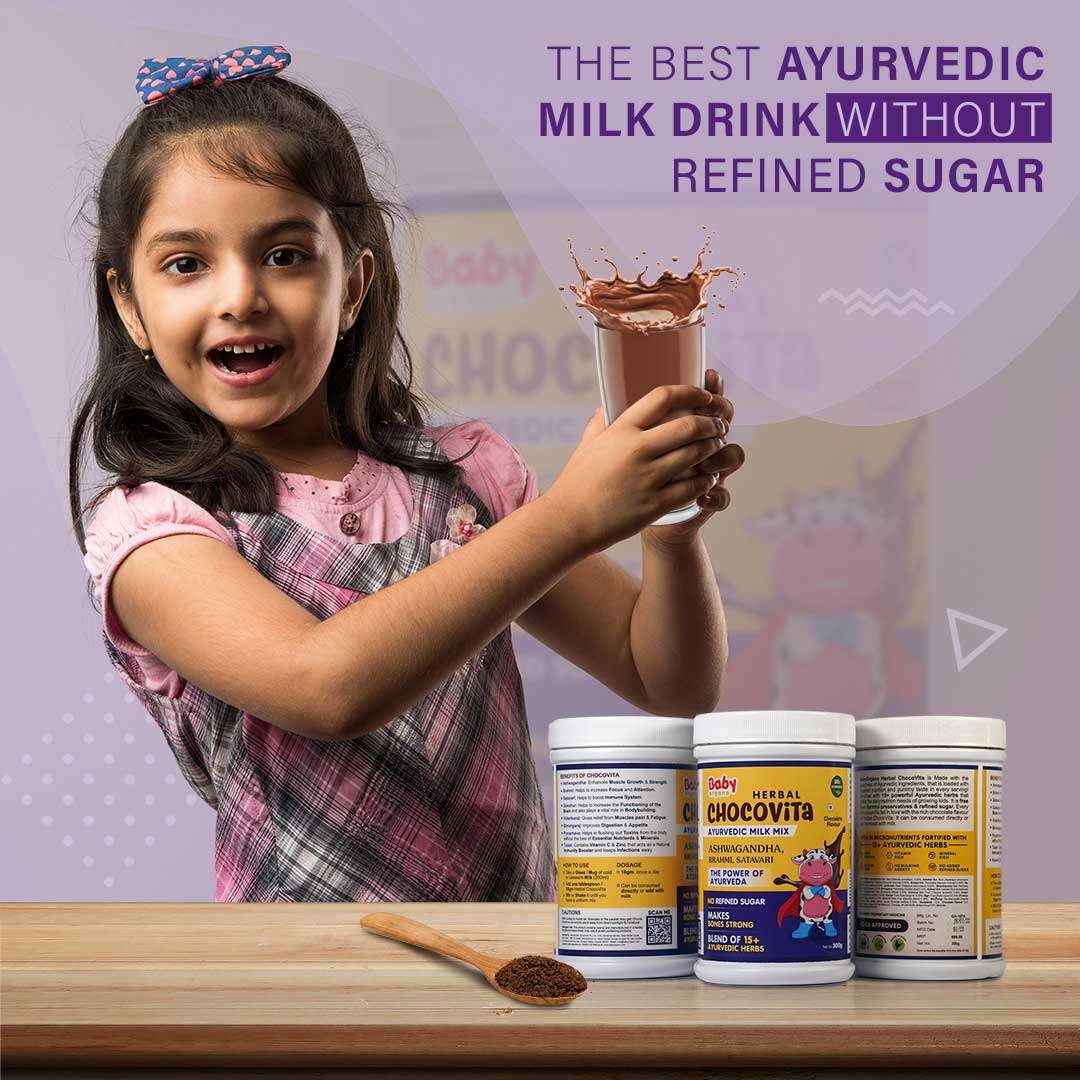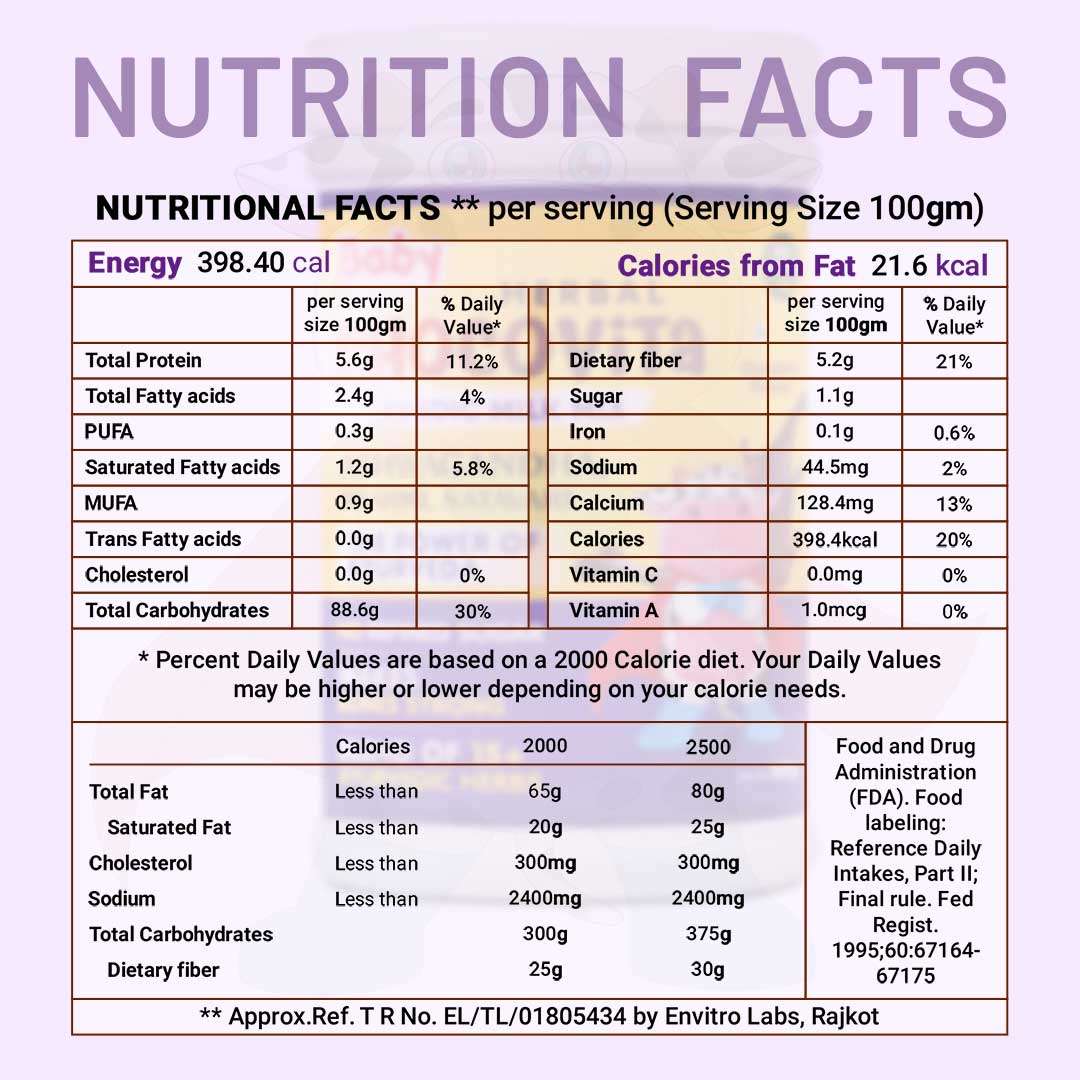 Product Description
Indulge your child's taste buds while strengthening their body with BabyOrgano Herbal Chocovita. This delightful health drink combines the goodness of ayurvedic herbs with a rich and chocolaty flavour that kids love. Made with no refined sugar, it offers a healthier snacking option that supports their well-being. Unlock the perfect blend of nutrition and taste with Herbal Chocovita for Kids.
Reasons to use BabyOrgano Herbal Chocovita:
Essential Nutrients: Our Herbal Chocovita is enriched with essential nutrients such as calcium, iron, and vitamins A and C. These nutrients are vital for children's growth, development, and overall health. Calcium supports strong bones and teeth, iron helps in the production of red blood cells, while vitamins A and C contribute to immune function and overall well-being.
Herbal Support: It contains a blend of ayurvedic herbs such as Ashwagandha, Satavari, Brahmi and Tulsi that provide additional health benefits. These herbs may support various aspects of children's health, including immune system function, and concentration. The herbal infusion adds an extra layer of support to promote overall wellness.
Taste and Enjoyment: Children are often drawn to the delicious taste of chocolate, and Herbal Chocovita combines this beloved flavour with beneficial herbs. This makes it a tasty and enjoyable treat for kids, ensuring they will eagerly consume it as part of their daily routine.
No Refined Sugar: Parents can provide their children with a healthier alternative to traditional chocolate drinks. Refined sugar is associated with various health concerns, including obesity, tooth decay, and energy crashes. Our Herbal Chocovita allows children to enjoy a chocolate treat without the negative effects of excessive sugar consumption.
Formulated by Experienced Ph.D. Pharmacist: Our baby products are thoughtfully formulated by experienced Ph.D. pharmacist who have a deep understanding of the unique needs and sensitivities of infants and young children. With their expertise in pharmaceutical science and a focus on child health and safety, our products are designed to provide the utmost care and support for your little one.
So, give your child the best of both worlds with BabyOrgano Herbal Chocovita a deliciously wholesome treat that promotes their overall health and development. With its unique combination of herbs, vitamins, and minerals. Herbal Chocovita ensures that your child receives essential nutrients in a delightful chocolatey form. Make snacking time a nutritious and enjoyable experience for your little ones with Our Herbal Chocovita, the perfect choice for their growing bodies and discerning taste buds.
DIRECTIONS TO USE
♦ Chocovita can be given to anyone aged 2+ years.

♦ Take a Glass / Mug of cold or lukewarm Milk(200ml). Add one tablespoon / 10gm Herbal ChocoVita. Stir or Shake it until you have a uniform mix.

♦ 10gm. once a day for kids aged 2+ years.
♦ Can be consumed directly or add with milk.