BabyOrgano Ayurvedic Toothpaste for Kids | Babool, Mulethi & Other Useful Herbs | Strawberry Flavour, Fluoride Free, SLS Free, 100% Ayurvedic, FDCA Approved
BabyOrgano Ayurvedic Toothpaste for Kids | Babool, Mulethi & Other Useful Herbs | Strawberry Flavour, Fluoride Free, SLS Free, 100% Ayurvedic, FDCA Approved
BabyOrgano Herbal Toothpaste for kids with goodness of Babool and Mulethi Fluoride and SLS Free | 100% Ayurvedic | Ayush and FDCA Approved.
Regular price
₹ 199.00
Sale price
₹ 149.00
Unit price
per
Sale
Sold out
EXTRA 5% OFF
on
PREPAID ORDERS
by using Debit/Credit Card/UPI
Share
KEY INGREDIENTS & BENEFITS

✅ Mulethi : Protection against Cavities
✅ Khadir : Helps to prevent Tooth Decay
✅ Peppermint : Excellent cleaning on Children's Teeth & Gum
✅ Babool : Strengthen the gums
✅ Clove & Neem : Ease Toothache and reduce swelling and irritation
✅ AloeVera : Helps to prevent and heal gum disease
View full details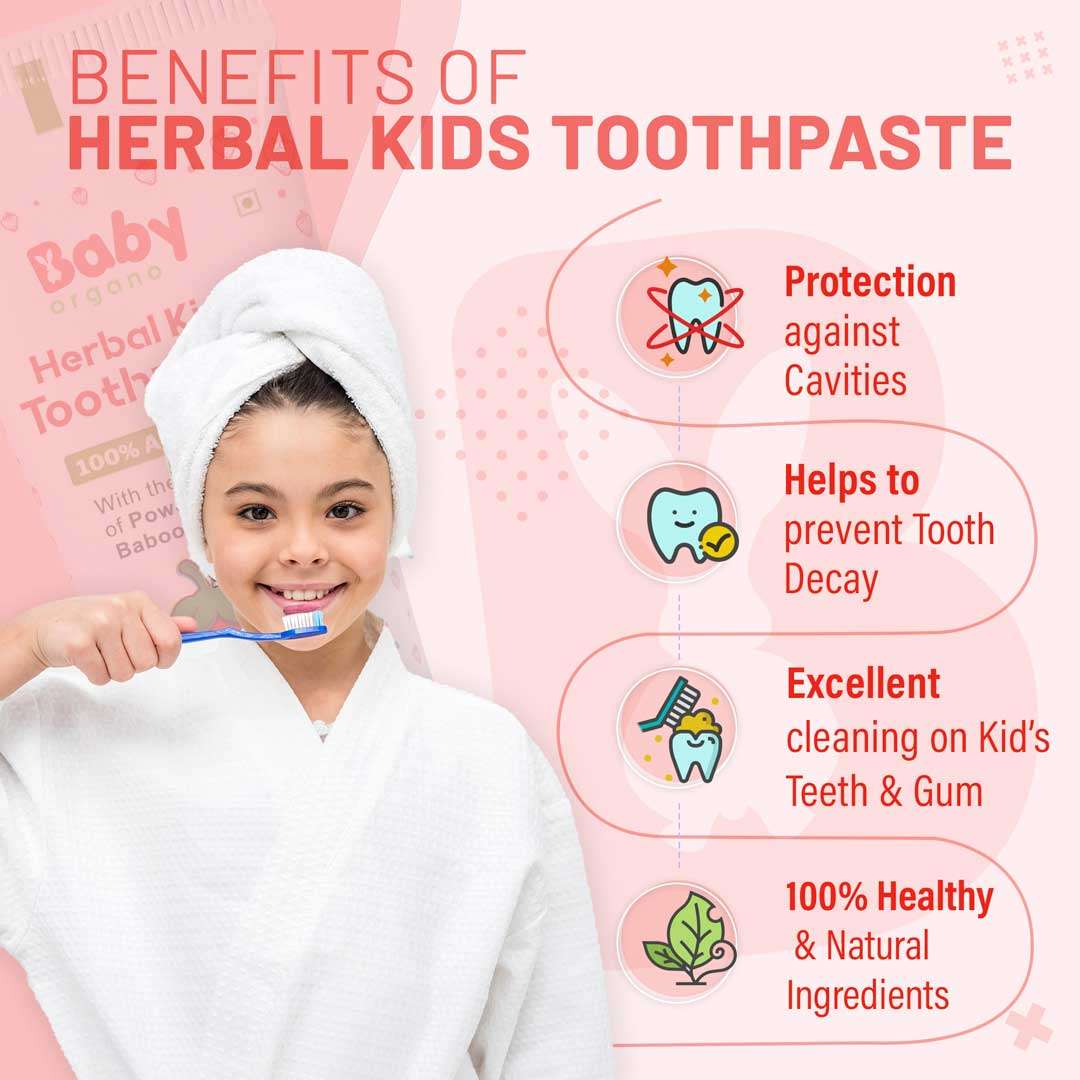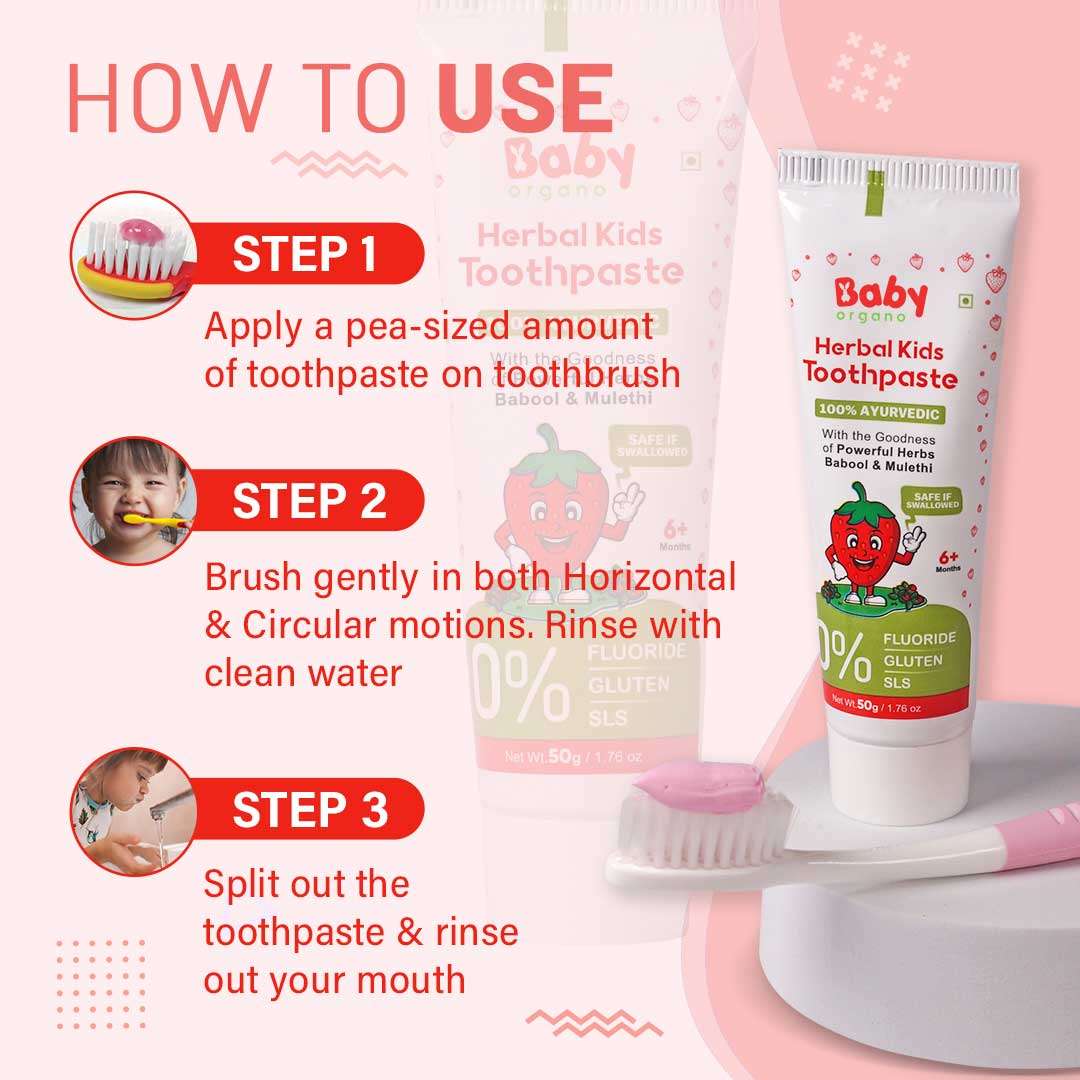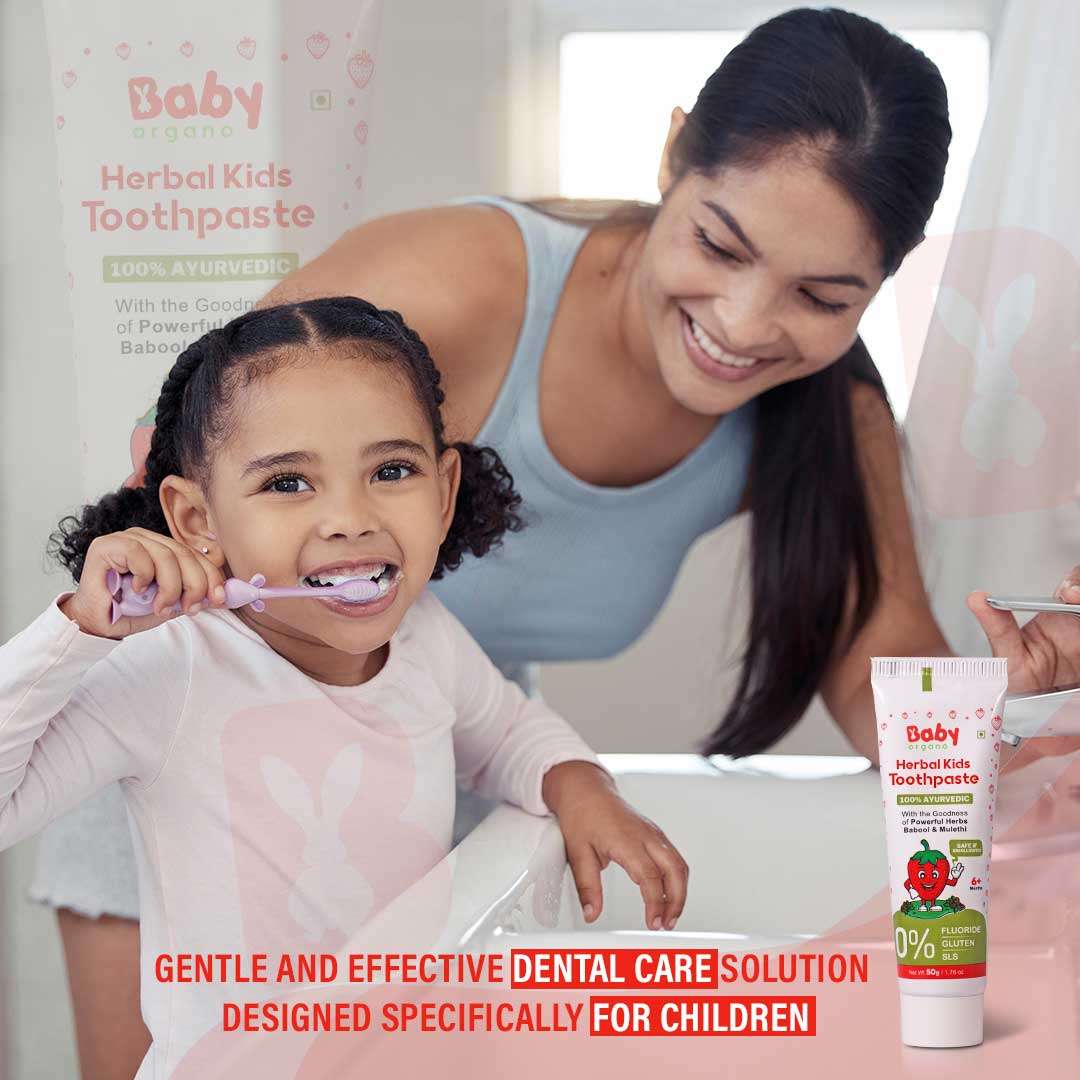 Product Description
BabyOrgano Ayurvedic Toothpaste is a natural blend of herbal ingredients carefully selected to promote oral health and hygiene of kids. It contains a mild and pleasant flavour that kids will love, making brushing an enjoyable experience. It is a gentle and effective dental care solution designed specifically for children. This specially formulated toothpaste combines the wisdom of Ayurveda with the needs of young smiles.
Reasons to choose BabyOrgano Ayurvedic Toothpaste:
Natural Ingredients: It is formulated with natural ingredients such as Babool, Mulethi, Khadir and Peppermint derived from herbs, plants, and minerals. These ingredients are gentle on delicate gums and provide effective oral care without the use of harsh chemicals or artificial additives.
Effective Plaque Removal: It contains natural cleansing agents that effectively remove plaque and food particles from teeth. This helps prevent cavities, tooth decay, and the formation of harmful bacteria in the mouth.
Strengthens Tooth Enamel: It is enriched with ingredients that promote strong and resilient tooth enamel. This helps to protect teeth from sensitivity and damage, ensuring long-term oral health for kids.
Mild and Pleasant Flavour: It features a mild and appealing strawberry flavour that children enjoy. This encourages regular brushing habits and makes oral hygiene routines more enjoyable for kids.
Formulated by Experienced Ph.D. Pharmacist: Our baby products are thoughtfully formulated by experienced Ph.D. pharmacist who have a deep understanding of the unique needs and sensitivities of infants and young children. With their expertise in pharmaceutical science and a focus on child health and safety, our products are designed to provide the utmost care and support for your little one.
So, BabyOrgano Ayurvedic Toothpaste is the perfect choice for parents who prioritize their children's oral health and well-being. With its natural ingredients, gentle formulation, and effective results, it provides a safe and enjoyable brushing experience. Make dental care a positive and holistic experience for your kids, ensuring their bright and healthy smiles for years to come.
DIRECTIONS TO USE
♦ BabyOrgano Herbal Kids Toothpaste recommended age is 6 months to 12 years

♦ Use a pea-sized amount of toothpaste, brush gently than rinse with clean water
♦ Supervise child's brushing and rinsing to minimize swallowing

♦ Brush teeth twice a day, in the morning and at night after meals