100% Organic Lip Balm For Dry Damaged and Chapped Lips | An Ayurvedic Lip Moisturizer LipBalm Enriched with Yashti ghrit, Shea Butter & Essential Oils
Regular price
₹ 299.00
Sale price
₹ 269.00
Unit price
per
Sale
Sold out
EXTRA 5% OFF
on
PREPAID ORDERS
by using Debit/Credit Card/UPI
Share
KEY INGREDIENTS & BENEFITS

✅ Organic Almond Oil: Makes lips soft & supple
✅ Organic Coconut Oil (Virgin): Moisturizes chapped & dry lips
✅ Shea Butter: Softens and Hydrates lips deeply
✅ Yashti Ghrit: Keep your Lips Moisturized
✅ Castor Oil: Protect Against Sun Damage
View full details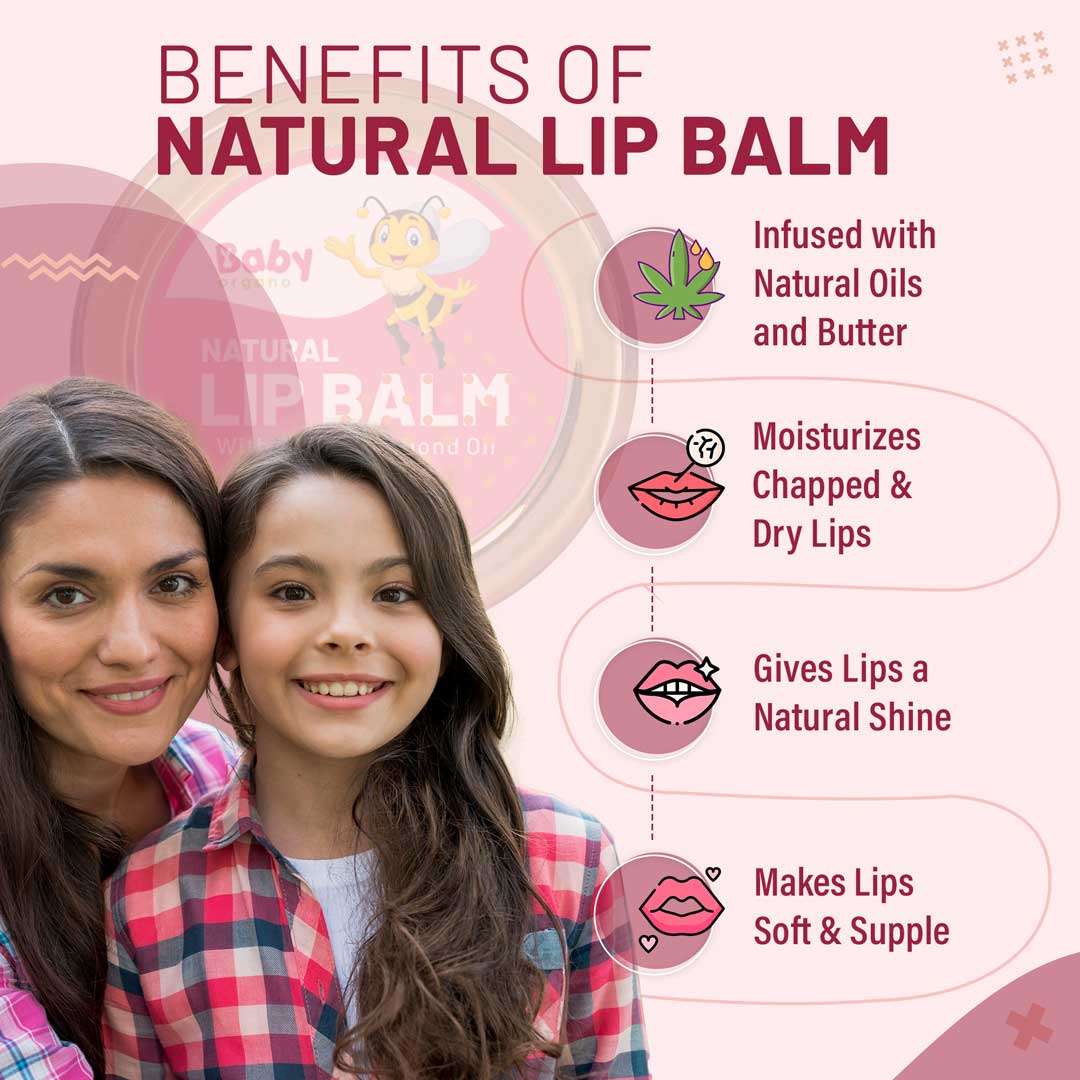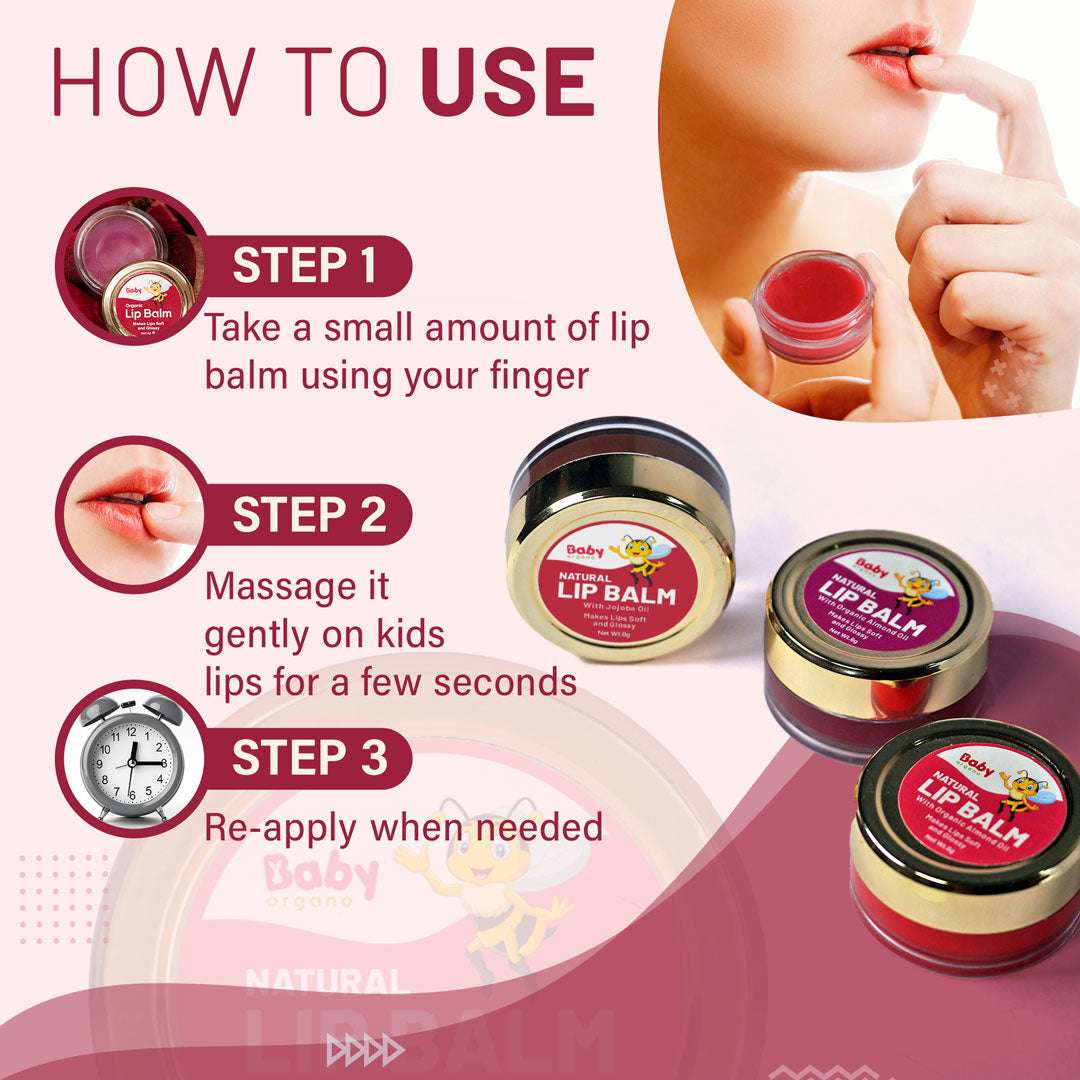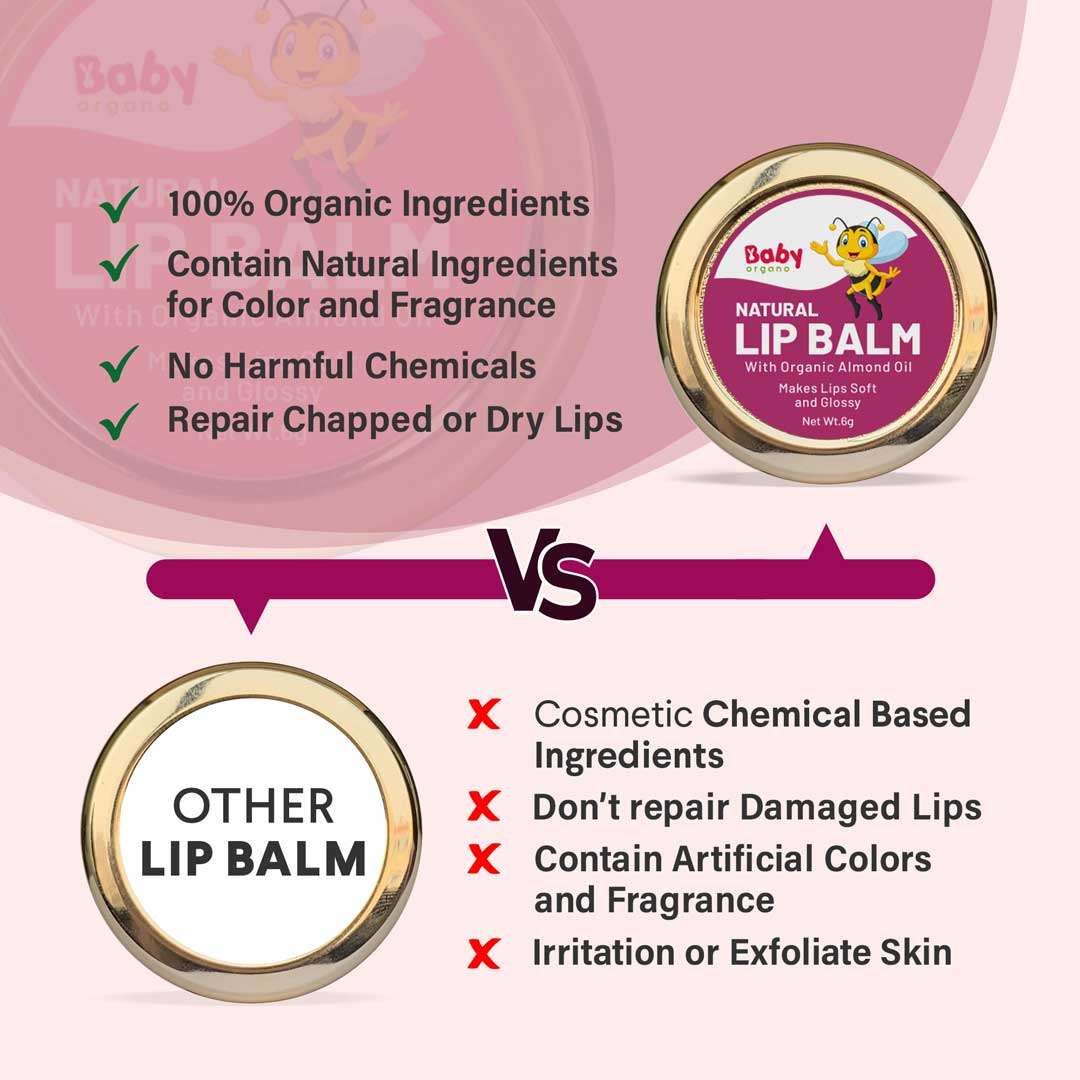 Product Description
BabyOrgano Natural Lip Balm designed specifically for kids. Our gentle and nourishing formula is thoughtfully crafted to provide optimal care and protection for your little one's delicate lips. It contains a blend of soothing botanical extracts and moisturizing oils to keep your child's lips soft, smooth, and hydrated.
Reasons to choose BabyOrgano Natural Lip Balm:
Gentle and Nourishing: It is formulated with gentle and nourishing ingredients such as Almond Oil, Shea Butter, Coconut Oil and Yashti Ghrit. These ingredients help to keep your child's lips soft, smooth, and hydrated, preventing dryness and chapping.
Non-Toxic: It is free from harmful substances such as parabens, phthalates, and petrolatum. We ensure that kids are not exposed to potentially toxic ingredients while using the product.
Kid-Friendly Flavours: It come in delicious flavours such as Beetroot, Chocolate and Strawberry that appeal to children. This can make the application of lip balm a fun and enjoyable experience, encouraging regular use.
Avoid Allergens: Synthetic additives and fragrances found in non-natural lip balms can cause allergic reactions in some children. By using our natural lip balm, you reduce the risk of triggering any allergies or sensitivities.
Formulated by Experienced Ph.D. Pharmacist: Our baby products are thoughtfully formulated by experienced Ph.D. pharmacist who have a deep understanding of the unique needs and sensitivities of infants and young children. With their expertise in pharmaceutical science and a focus on child health and safety, our products are designed to provide the utmost care and support for your little one.
Hence, BabyOrgano Natural Lip Balm specially crafted for your little one's precious smile. Nurture and protect your child's delicate lips with our all-natural lip balm, made just for kids. Our natural lip balm is the perfect companion for your little one's adventures, providing protection and moisture all day long.
DIRECTIONS TO USE
♦ Lip Balm can be used to anyone aged 6+ months.

♦ Take a small amount of lip balm using your finger.
♦ Massage it gently on kids lips for a few seconds.



♦ You can apply it after taking bath and before going to sleep. Use it every day or whenever you need.