Soothing, Nourishing & Rash-Free Skin
Regular price
₹ 299.00
Sale price
₹ 269.00
Unit price
per
Sale
Sold out
EXTRA 5% OFF
on
PREPAID ORDERS
by using Debit/Credit Card/UPI
Share
KEY INGREDIENTS & BENEFITS

✅ Tavakshir - Makes skin soft & smooth
✅ Yashad Bhasma - Improves collagen synthesis & skin tissue regeneration
✅ Shankhajiru- Gives relief from skin rash
✅ Lavender - Reduces itching & soothing baby's skin
View full details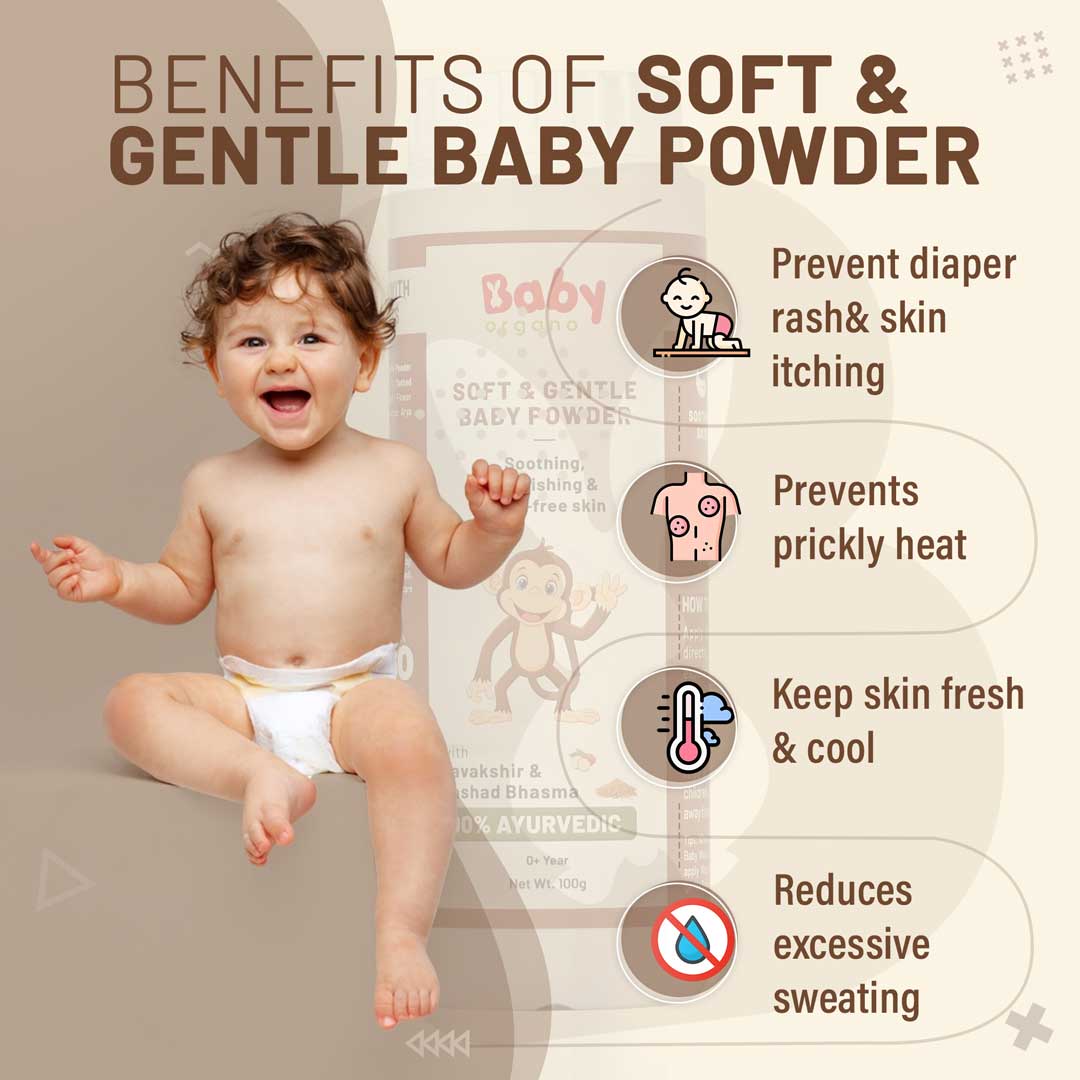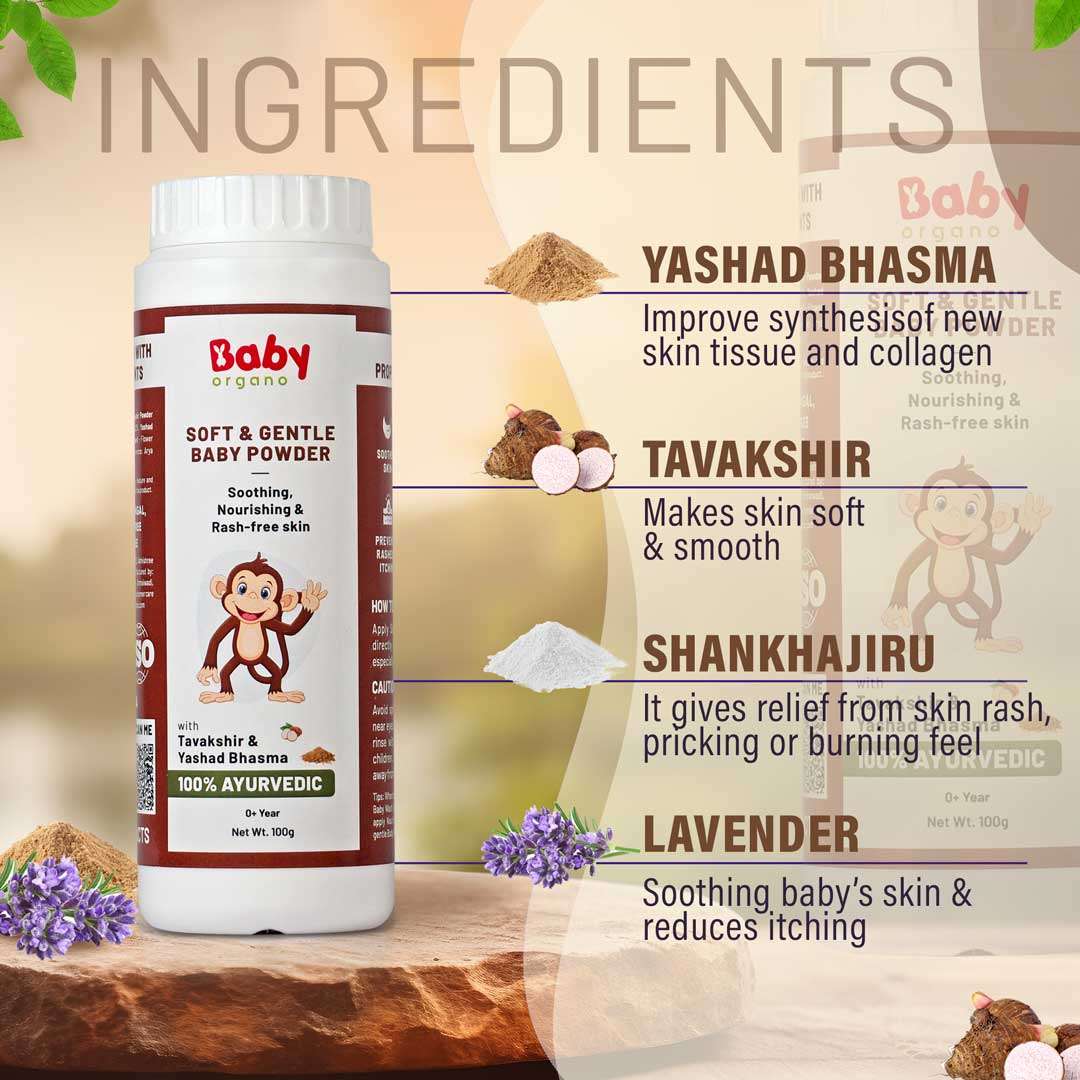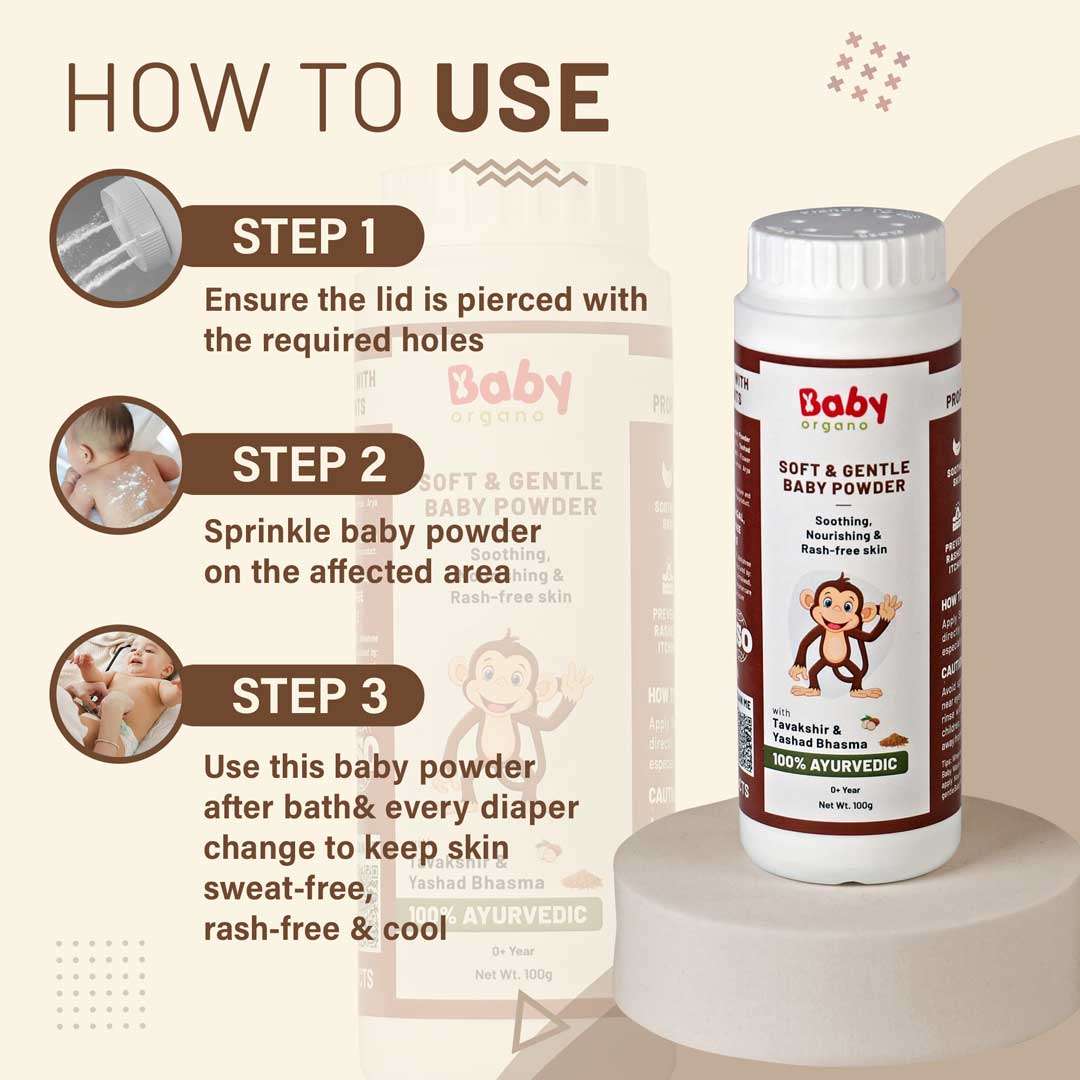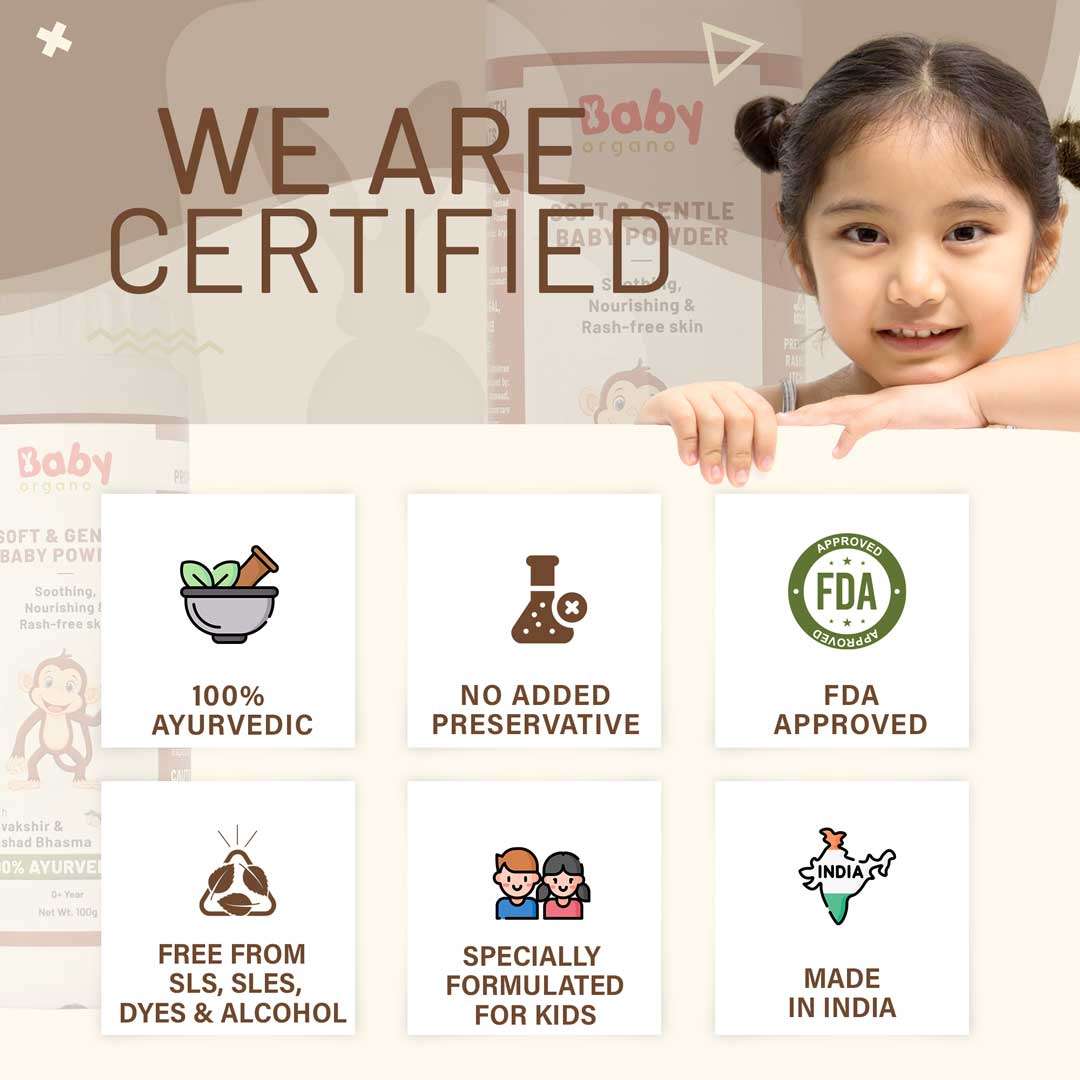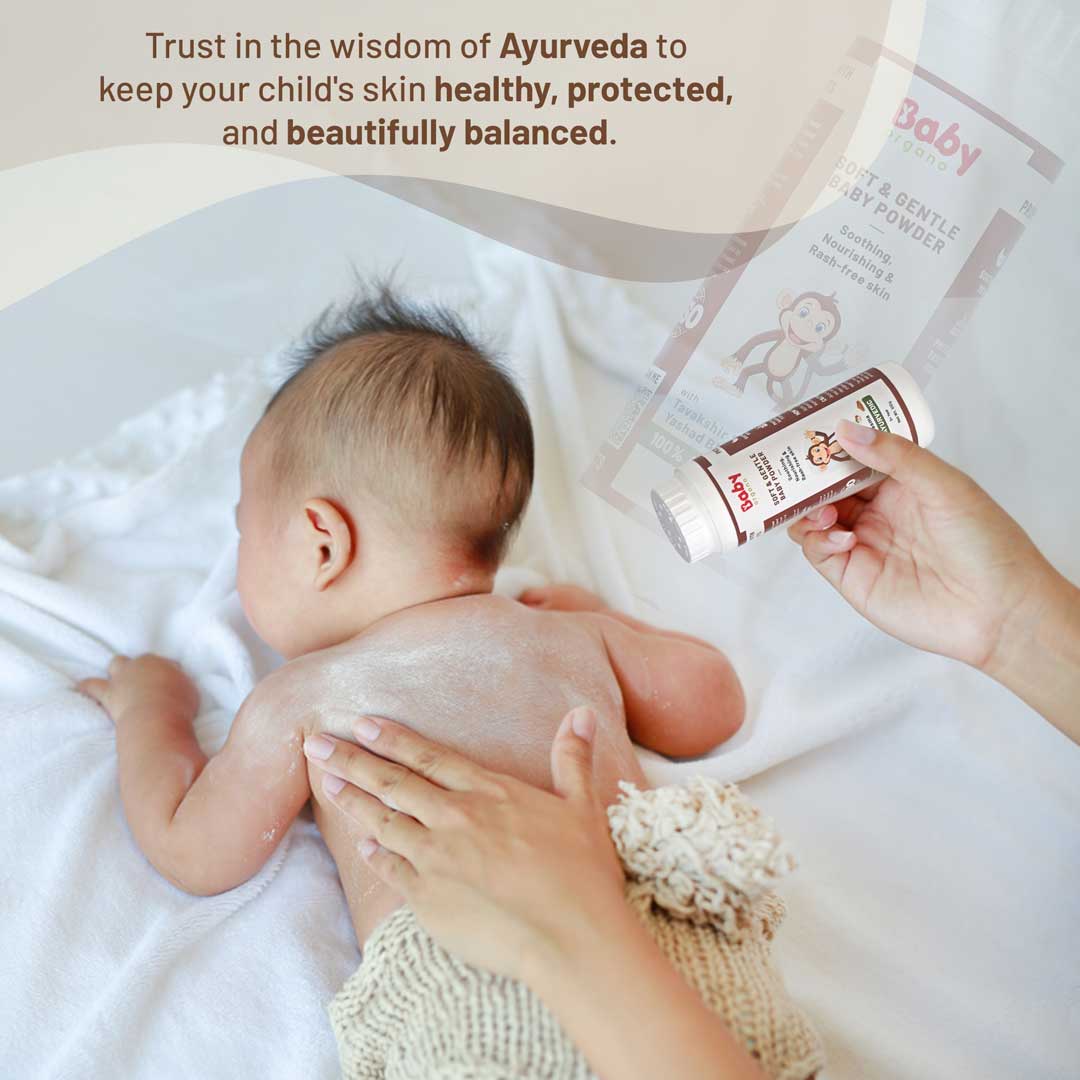 Product Description
BabyOrgano Soft & Gentle Baby Powder, a gentle and natural solution to care for your little one's delicate skin. Crafted with utmost care and based on ancient Ayurvedic principles, our baby powder offers a soothing and nurturing experience. Infused with the goodness of herbs, flowers, and essential oils, our Ayurvedic baby powder provides multiple benefits.
Reasons to use BabyOrgano Soft & Gentle Baby Powder:
Cooling and Refreshing: It contain cooling agents like

Shankhajiru

and

Lavender

, which provide a cooling and refreshing effect when applied to the skin. This can be especially beneficial during hot weather or when your child's skin feels warm and sweaty.
Natural Ingredients: It is typically made from natural ingredients such as

Tavakshir

,

Yashad Bhasma

, and

Shankhajiru

. These ingredients are believed to have medicinal properties and are free from harmful chemicals, artificial fragrances, and preservatives, making them safe for your child's delicate skin.
Absorbs Moisture: It have absorbent properties that help absorb excess moisture on the skin. This can be particularly useful in areas prone to sweat accumulation, such as the diaper area or skin folds, reducing the risk of rashes and skin infections.
Mild Fragrance: It has a subtle and pleasant fragrance derived from natural ingredients. This gentle scent can help keep your baby smelling fresh without overwhelming their sensitive noses.
Formulated by Experienced Ph.D. Pharmacist: Our baby products are thoughtfully formulated by experienced Ph.D. pharmacist who have a deep understanding of the unique needs and sensitivities of infants and young children. With their expertise in pharmaceutical science and a focus on child health and safety, our products are designed to provide the utmost care and support for your little one.
Hence, BabyOrgano Soft & Gentle Baby Powder offers a natural, gentle, and effective solution for your child's skincare needs. With its carefully selected ingredients and traditional Ayurvedic formulation, it provides a soothing and nurturing experience for your little one. Trust in the wisdom of Ayurveda to keep your child's skin healthy, protected, and beautifully balanced. Experience the difference that Ayurveda can make in your baby's skincare routine today.
DIRECTIONS TO USE
♦ BabyOrgano Soft & Gentle Baby Powder is suitable for kids from Day 1 of the newborn.

♦ Ensure the lid is pierced with the required holes. Sprinkle some baby powder on your hands and apply onto your baby's skin.

♦ Use this soft and gentle baby powder after bath and every diaper change to keep skin sweat-free, rash-free & cool.