For Strong, Soft, Shiny & Healthy Hair
Regular price
₹ 399.00
Sale price
₹ 359.00
Unit price
per
Sale
Sold out
EXTRA 5% OFF
on
PREPAID ORDERS
by using Debit/Credit Card/UPI
Share
KEY INGREDIENTS & BENEFITS

✅ Bhringraj : Helps In Promoting Hair Growth
✅ Tomato : Treats Dry Scalp and prevents Hair Loss
✅ Lemon : Helps In Keeping Your Scalp Healthy
✅ Jasmine : Moisturizes the scalp & prevents dryness
View full details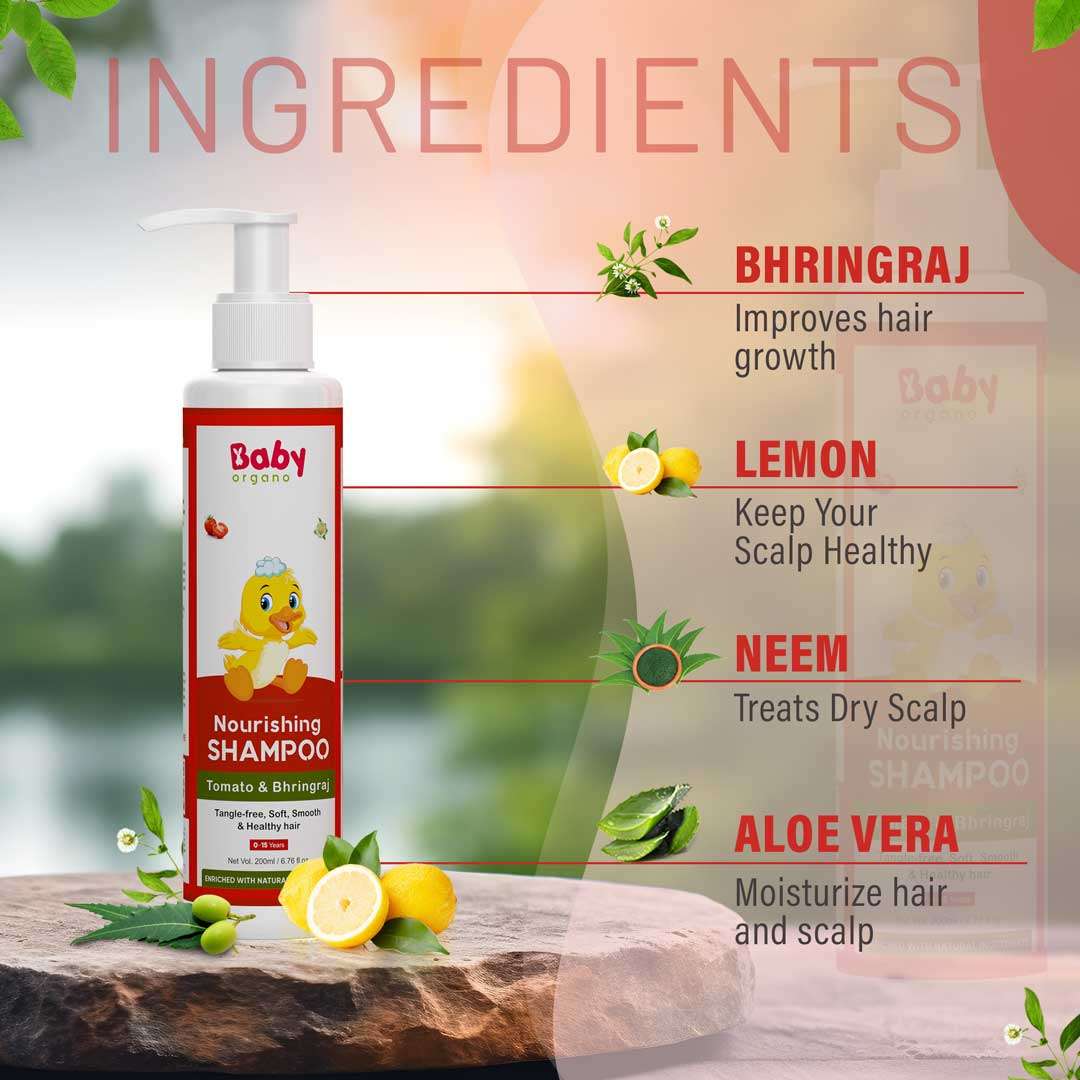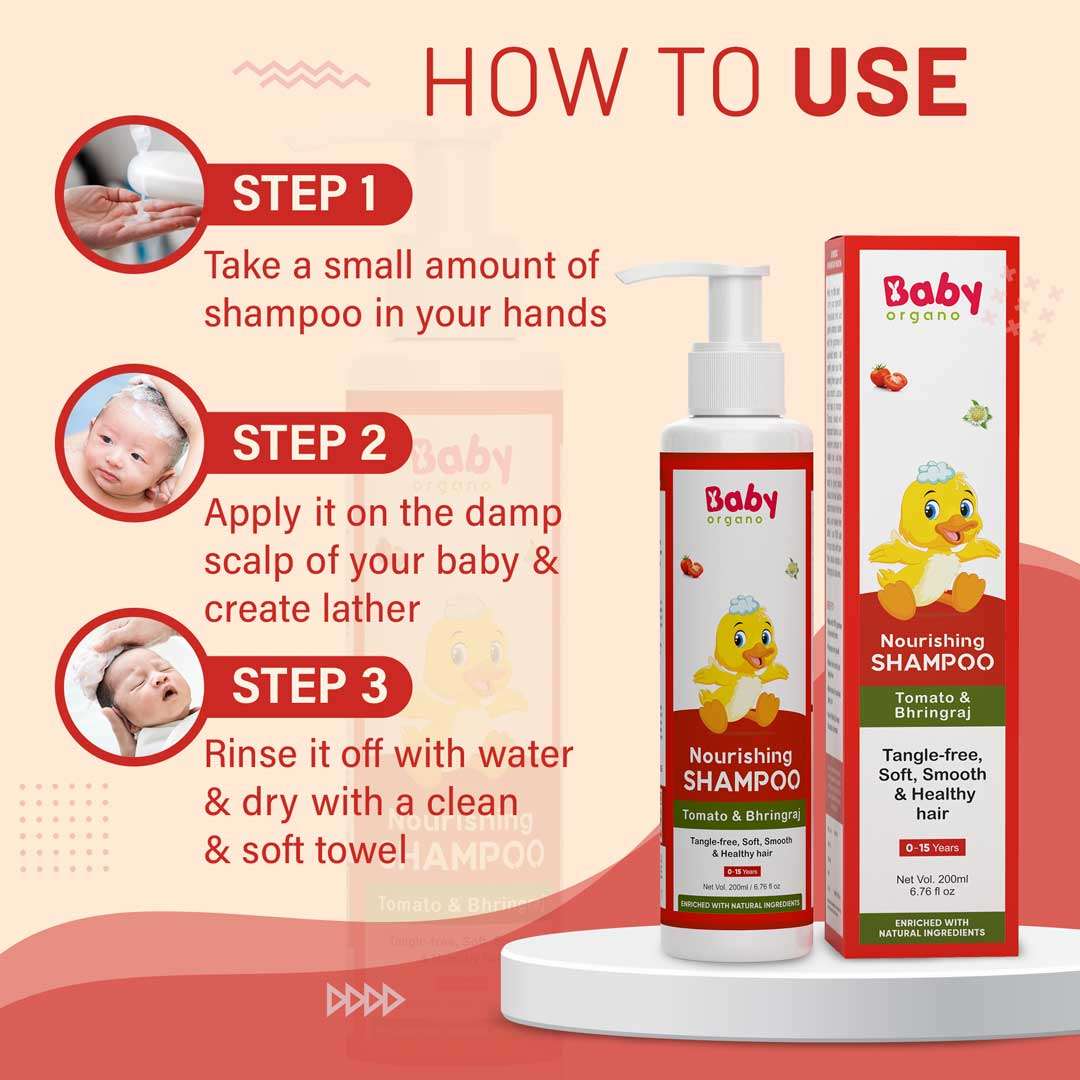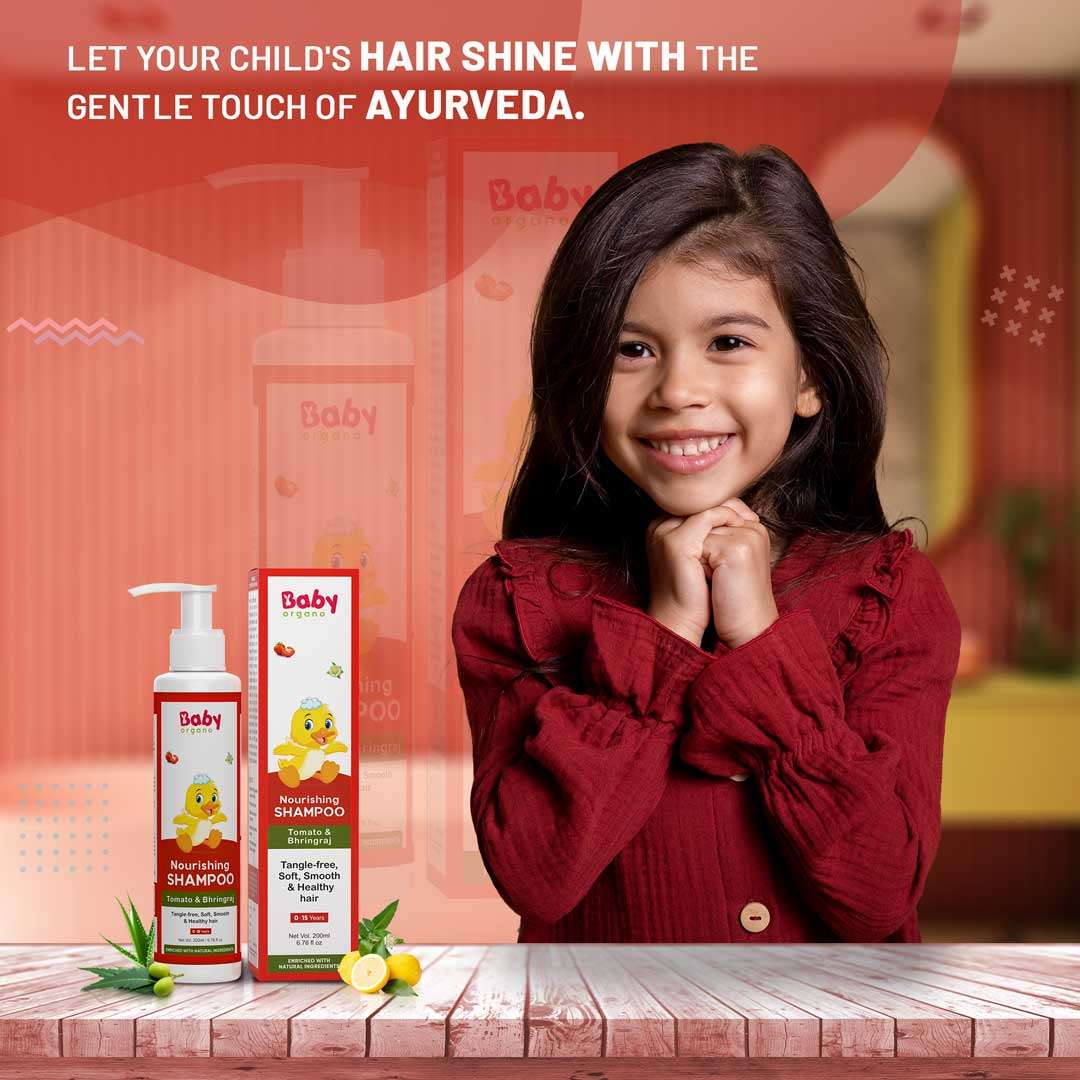 Product Description
BabyOrgano Tomatino Baby Shampoo, a gentle and nurturing hair care solution specially formulated for your little ones. Inspired by the ancient Ayurveda principles, this shampoo is crafted with love and care to provide a safe and effective cleansing experience for children's delicate hair and scalp.
Reasons to use BabyOrgano Tomatino Baby Shampoo:
Gentle and Mild: It is formulated with mild ingredients, making them gentle on their sensitive scalp and hair. They provide a soothing and non-irritating cleansing experience, minimizing the risk of dryness, itching, or discomfort.
Natural Ingredients: It contains beneficial herbs like Aloe Vera, Tomato, Bhringraj and Neem, which are rich in essential nutrients, vitamins, and antioxidants. These ingredients helps to nourish and strengthen your child's hair, promoting overall hair health and preventing common issues like breakage and split ends.
Scalp and Hair Health: It focuses not only on cleansing but also on maintaining a healthy scalp and promoting optimal hair growth. The natural herbs used in this shampoo help to balance the scalp's pH levels, reduce dryness, soothe irritation, and support a healthy environment for hair follicles.
Tear-Free: It is specifically formulated to be tear-free, making bath time a more pleasant and tearless experience for your kids. This shampoo is gentle on the eyes and minimizes the discomfort.
Formulated by Experienced Ph.D. Pharmacist: Our baby products are thoughtfully formulated by experienced Ph.D. pharmacist who have a deep understanding of the unique needs and sensitivities of infants and young children. With their expertise in pharmaceutical science and a focus on child health and safety, our products are designed to provide the utmost care and support for your little one.
Hence, BabyOrgano Tomatino Baby Shampoo offers a blend of gentle cleansing, nourishing ingredients, and the wisdom of Ayurveda. With its mild formulation and natural herbs, it ensures a safe and nurturing hair care experience for your child. Say goodbye to harsh chemicals and hello to the goodness of nature as you embark on a hair care journey that promotes healthy, strong, and vibrant locks. Let your child's hair shine with the gentle touch of Ayurveda.
DIRECTIONS TO USE
♦ BabyOrgano Tomation Baby Shampoo can be used by Kids of all ages.

♦ Take our shampoo onto your palm and mix it with water to lather
♦ Apply on your baby's wet hair and rinse it off with water and dry with a clean and soft towel

♦ Before shampoo, Gently apply a few drops of Baby Hair Oil on the baby's scalp and hair then leave it for a few minutes