10 tips while taking care of a newborn baby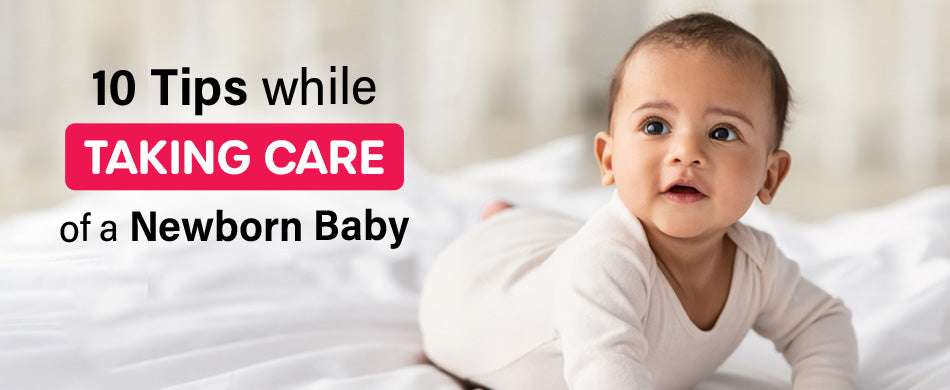 The arrival of a newborn brings joy and several responsibilities equally. Being the parent to a newborn isn't an easy task, especially if you are a parent for the first time. You take care of your baby in every possible way you can while getting to hear advice from all. You are happy and overwhelmed at the same time but also need to fulfill your responsibilities as a parent. As a newborn parent, you would want to not just feed your baby but also use the right newborn baby skin care products. Well, to raise the baby in the best way, you need to make the best choices and follow a care plan.
Let's give a quick read to the tips that will help you take better care of your newborn baby without any compromise on his or her health.
Feed the baby on time
A newborn baby needs to breastfeed more frequently than normal in their initial few days. It takes time for their feeding patterns to alter which happens as they grow. As, a breastfeeding mother, you must know you need to feed the baby on time. You must know that the baby must only have breast milk until 6 months old. Sometimes, a baby might experience colic after feeding and you may choose to use an Ayurvedic hing roll-on to ensure your baby gets relief.
Crying baby might be sick
At such a young age when the baby is a few days old, they cannot communicate. The only way that a baby can communicate whether he/she is hungry, sleepy, or bored is through crying. Sometimes, the baby's cry might be due to an underlying condition or sickness. So, if you are feeding your baby on time and he/ she continues to cry, you must check for the same. You can also take your baby to the doctor and get him/ her checked for any sickness or serious medical condition.
Bathe the baby regularly
Taking your newborn baby for a bath can be a difficult task to do as they are very delicate. Usually, any healthy baby needs to take a bath within 6 hours of his/ her birth but it's not the same for underweight babies. Also, this may vary depending on the season and the weather conditions outside. One can decide to give a sponge bath to their baby with a good baby body wash instead of regular bathing. You can use the best baby wash for newborns for bathing them or baby wipes for cleaning the various parts of their bodies.
Hold the baby to offer support
When you hold the baby, ensure that you support either the head or the neck region of your baby with the other hand. It is crucial as the muscles of the babies are not strong enough to remain without any support. The head of the baby must rest on your shoulder if you are supporting the neck with your hands. Once the baby is more than 3 months old, the muscles will be strong enough and support the head. If you have become a parent for the first time, you must learn the perfect position to hold your baby.
Talk with the baby to bond
You are everything for your little newborn and as a parent, you must bond well with your baby. Whether it is talking to them or making eye contact with them, playing, or making skin touch with your baby, these small gestures can help develop a bond between you two. Once you do these things, the baby will start getting familiar with you. Newborn babies start recognizing their parents once they develop a bond.
Massage your baby well
One of the most significant factors that contribute to infant-parental bonding is physical interaction. Your gentle touch while massaging your infant with baby massage oil can improve your bonding with the baby. Yet, you must ensure to use the right products for your baby. The use of the best baby massage oil will give relaxation to your baby while not compromising on his/ her health. Massaging the belly part of your baby will help in reducing gassiness and aid in the digestion of the baby. No doubt, massage improves the blood circulation of the baby and helps him/ her get a soothing sleep.
Understand the sleep cycle of the baby
For the first 2-3 months after birth, newborn babies need sleep of more than 15 hours a day. Mostly, babies sleep for short durations like 3 to 4 hours every time they sleep. A baby might wake up when they wet his/ her diaper or when hungry. However, you must take care to wake up and feed your baby if he or she sleeps for more than 4 hours. The sleep cycle of newborn babies is not fixed in the first few days and hence, their sleep pattern keeps on changing. Also, ensure that the sleeping position of your baby is proper.
Change diapers to prevent rashes
Another important aspect of your baby's care is to change the diapers quite frequently. If you are breastfeeding your baby, then he or she might need around 7 diapers in a day. Regular breastfeeding helps to keep their bowel movements normal. So, if you feel that the diaper of the baby is full, you must change it immediately. As you change the diaper, use good-quality baby wipes and rash cream (in case the baby has rashes). You must let your baby lie down without the diaper for some time every day.
Use skincare products gentle on the baby's skin
You want the best for your newborn baby when it comes to their health. As a parent, you can't rely on any skincare product coming across your eyes and having side effects on your baby's skin. The skin of newborn babies is very delicate and you ought to choose ayurvedic baby care powder that is gentle on baby's skin. So, you must choose the best baby powder for newborn babies that will be soft on their skin. The moisturizer you use on your baby must also be good enough to prevent skin drying in dry climates.
Protect your baby with vaccinations
There are a few vaccinations that your newborn baby needs in his or her initial few days. Usually, giving Hepatitis B vaccine to the baby is important when they are born. This vaccine is important otherwise Hepatitis B infection might cause liver failure. A single shot of this vaccine can prevent the transmission of the infection from the mother to the baby. Apart from this, babies also need vaccination for diseases like Mumps and Measles. Another shot required by newborn babies is Vitamin K as newborn babies have a deficiency of Vitamin K.
The last word
Following the above-listed tips will help prevent a lot many problems that you might otherwise face as a newborn parent. Also, with so many products in the market, it is difficult to choose the best one for your baby. Well, BabyOrgano has the best quality products that are gentle on your baby's skin.
Visit the website and explore a range of baby skincare products that suit your baby's needs.
Disclaimer: The solutions mentioned in the blog are completely based on personal experience and serve general information purposes only. Please consult the doctor first if your baby is suffering from any problems.
---