Best Bollywood Movies Parents Must Watch With Their Children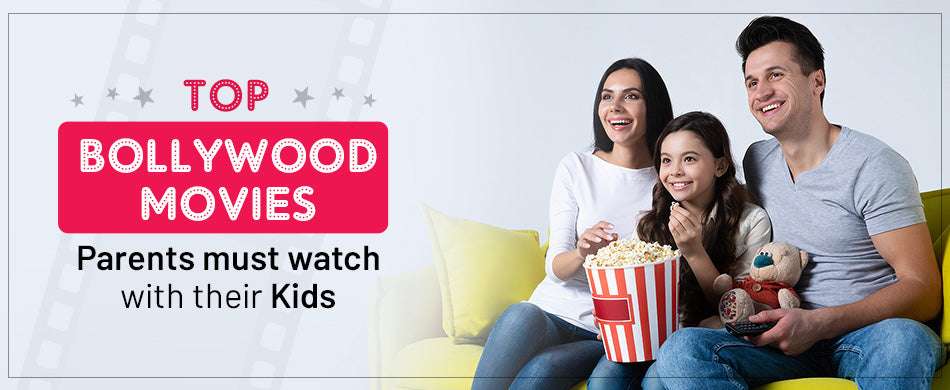 Cinema has a top-tier influence on people irrespective of their age. Everyone gets hooked with the enticing visuals and stories flamboyantly portrayed in the form of a movie. It is proven that visuals have more impact on a person rather than just the audio. That's the reason why movies affect and influence us up to a great extent. As a parent, watching movies with your kid is very helpful because the story you pick to show them directly creates an impression in their minds. Therefore, parents must choose the best Bollywood movies for their kids.
Not all movies are for kids, as some may have different genres. Hence, choosing a genre that not only entertains kids but also encourages and educates them is paramount. We've jotted a list of Bollywood movies parents must watch with their kids.
Top Bollywood Movies Parents Must Watch With Their Kids
Taare Zameen Par
Taare Zameen Par is a masterpiece that showcases a child's psychology in terms of how different and special every child is. On the flip side, it dictates the mentality of parents and their unwelcoming attitude toward their differently genius child by pressurizing them to achieve excellence in a path not made for their child. It also shows how one understanding person, either a teacher or a parent, takes the best out of a child. All by letting them do what they love and teaching in a way that makes sense to the kid.
Gippi
Gippi is about a 14-year-old teenager and the problems she deals with in her adolescence. Adolescence is a phase where a child experiences many changes mentally, emotionally, and physically, and Gippi is a girl facing all teenage problems. Still, she tackles the issues bravely because she has her mom's back. Therefore, the zest of this story is to teach your child to accept and love themselves the way they are and encourage them to own their personality.
Chillar Party
Chillar party is among the movie genres, which ignites the sense of unity in kids. This movie revolves around a group of kids who adamantly takes a stand against the rule made for stray dogs by a local politician. The children decide to devise a plan and get the desired success. It spreads the message of love, respect for stray dogs, and the importance of unity to the kids.
I am Kalam
I am Kalam is a story of a 12 years boy named Chhotu who works as a roadside tea seller. The story's highlight is our Ex. President, Dr. A.P.J. Abdul Kalam, who is a great inspiration for Chhotu. The roadside tea seller boy aspires to go to school and get the best out of his education but has no sources. However, he doesn't lose hope because DR. A.P.J. Abdul Kalam immensely inspired him, and that's why Chhotu aspires to be a better person after watching him on television.
Stanley Ka Dabba
Stanley Ka Dabba is one of the masterpieces that displays the story of kids in the school and how their teacher forces them to share lunch. However, the teacher corners Stanley, a boy who comes without a tiffin box, and warns him not to enter the school without a Dabba. But Stanley finds a way out with the help of his friends. The entire movie teaches children about self-esteem and bonding.
Haathi Mere Saathi
Haathi Mere Saathi is one of the biggest classic hits. It shows the bond between humans and elephants. Raju becomes very attached to his four elephants after they save his life. But his wife fears for her child and tells him he must choose between the animals and his family. However, the elephant goes beyond his way of expressing his love for Raju. The movie beautifully demonstrates the relationship between an elephant and a human.
Iqbal
Iqbal is a story of a boy who's deaf and can't speak but is obsessed with playing cricket for india. The boy's father doesn't believe nor support him. However, his sister is a rock-solid pillar who always supports and encourages the boy to chase his dream, and that's how he manages to get into a cricket team. This movie inspires kids to follow their dreams and never doubt their goals.
These were just a list of a few but the finest Indian movies. But you have many options to explore and watch with your kid on a cozy night with a bowl full of popcorn. Watching movies with your child helps to strengthen your bond and have a great time together, along with taking a lot of teaching and inspiration for your kid.
---