A 100% Ayurvedic, FDCA and Ayush approved cold relief roll on. It is a blend of Eucalyptus oil, Chamomile Oil and other essential oils to give instant relief from Blocked Nose, Cold, Cough and Chest Congestion.
Regular price
₹ 299.00
Sale price
₹ 249.00
Unit price
per
Sale
Sold out
EXTRA 5% OFF
on
PREPAID ORDERS
by using Debit/Credit Card/UPI
Share
KEY INGREDIENTS & BENEFITS

✅ Wintergreen Oil: Relieves Sore Throat & Easy Breathing
✅ Eucalyptus Oil : Helps to get the mucus out of your Chest
✅ Peppermint Oil : Relieves Sore Throat
✅ Tulsi Oil : Help In chest congestion
✅ Lavender Oil : Improves the overall quality of Sleep
✅ Chamomile Oil : Gives soothing relief to sleep better
✅ Sunflower Oil : Promotes restful sleep

View full details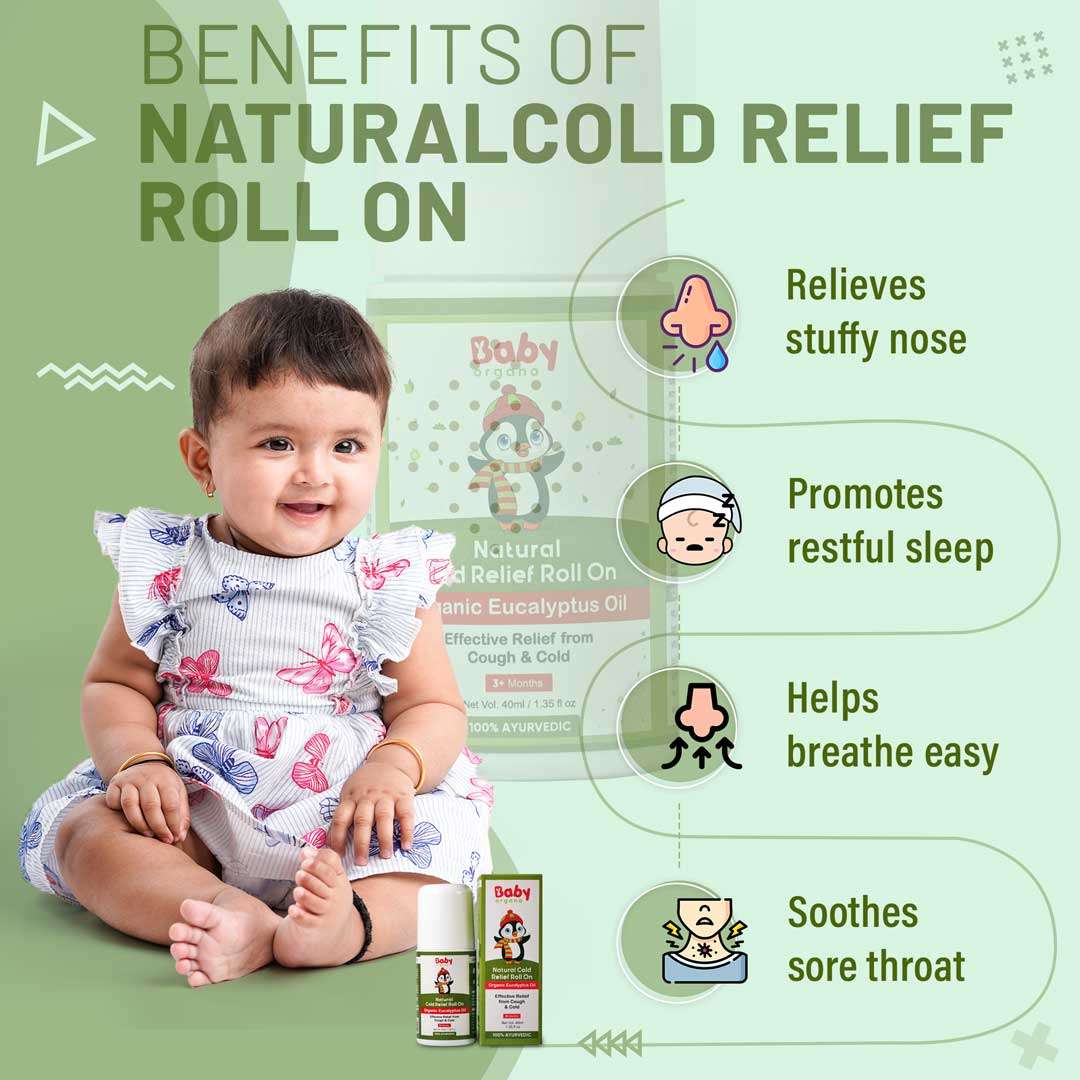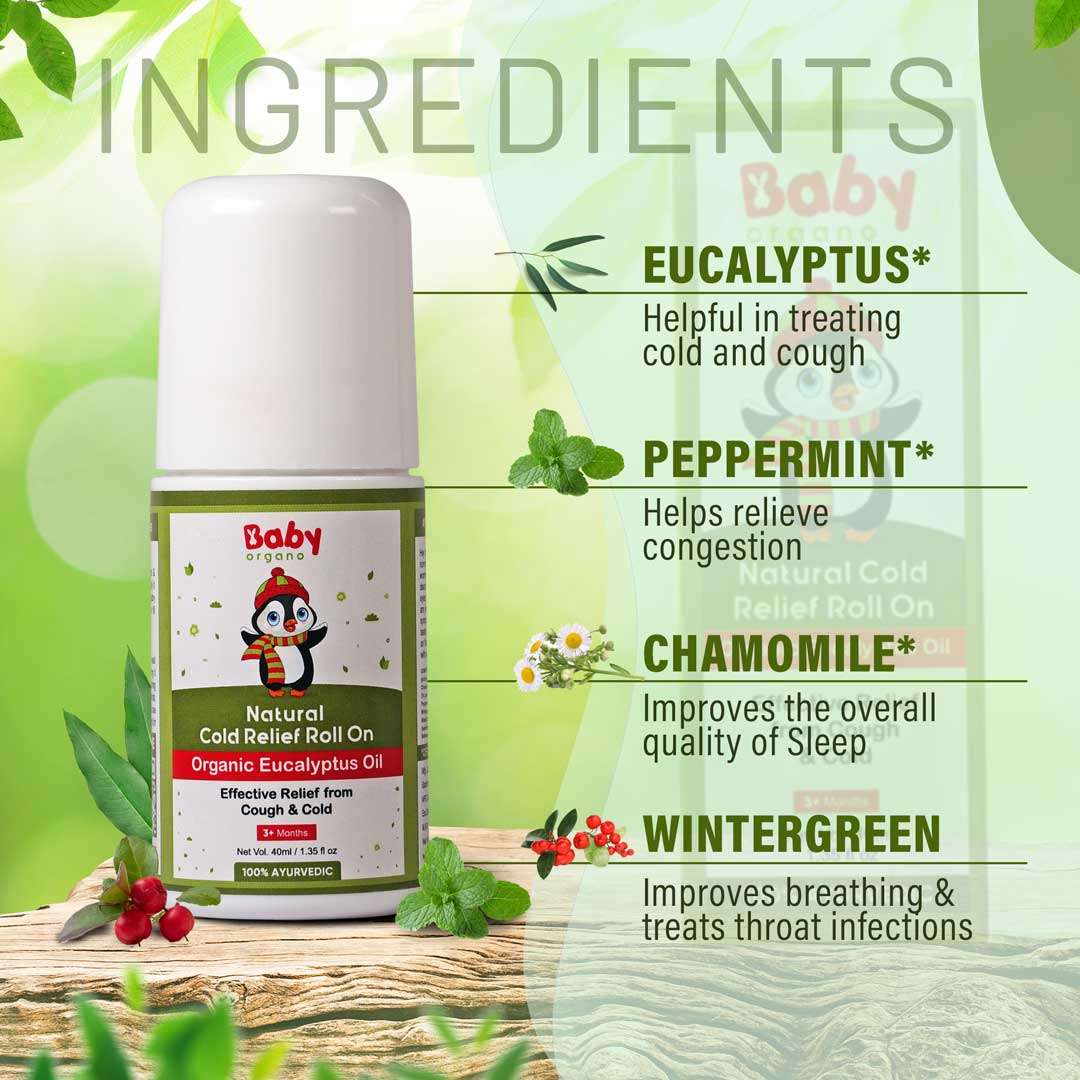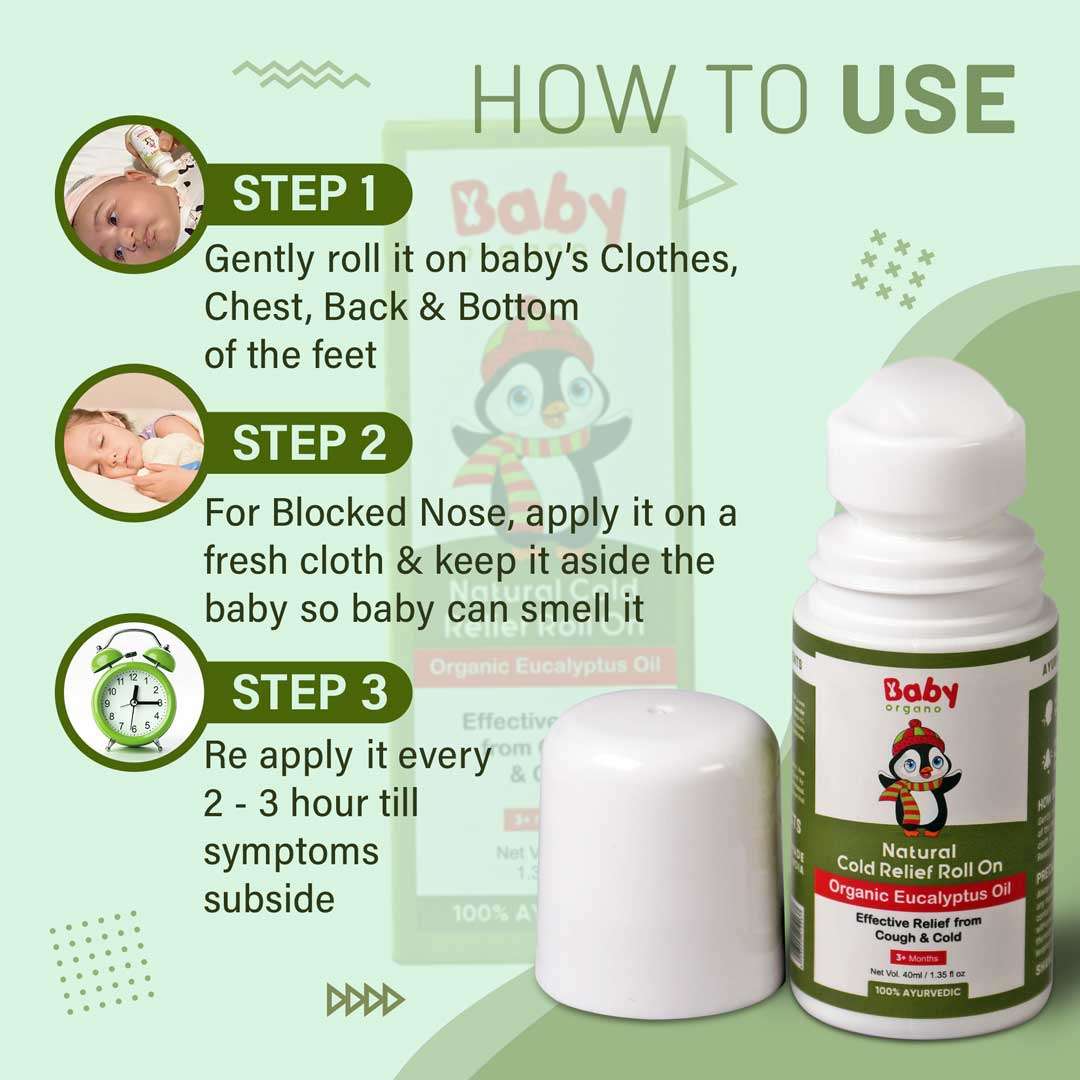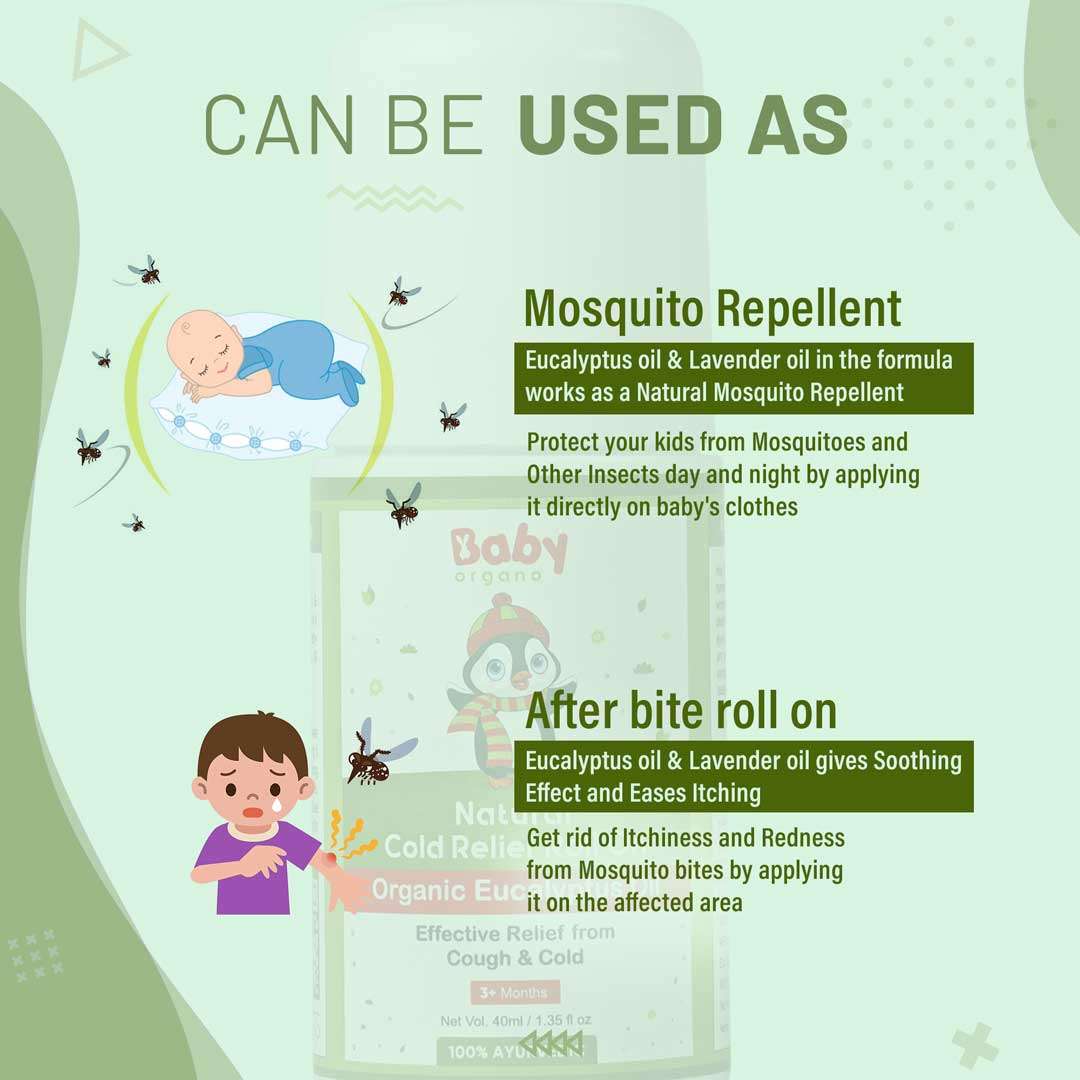 Product Description
BabyOrgano Natural Cold Relief Roll On, a gentle and effective solution designed to alleviate common cold symptoms in children. Crafted with care using natural ingredients, this roll-on offers a convenient and mess-free application method, making it a parent's go-to choice for providing soothing relief to their little ones.
Reasons to choose BabyOrgano Natural Cold Relief Roll On:
Safe for Children: Natural cold relief roll-ons are specifically formulated with gentle, child-friendly ingredients. They are free from harsh chemicals, artificial fragrances, and additives that may be irritating or harmful to your child's sensitive skin.
Effective Relief: Natural ingredients used in cold relief roll-on have therapeutic properties that can help alleviate common cold symptoms. Essential oils such as Eucalyptus, Peppermint, and Lavender have been traditionally used for their soothing and decongestant effects. These natural ingredients can help ease nasal congestion, relieve coughing, and promote relaxation, allowing your child to feel more comfortable during their cold.
Travel-Friendly: The compact and portable size of the roll-on makes it an ideal companion for on-the-go parents. Whether you're heading to school or a family vacation, you can conveniently carry it in your bag or pocket for quick and easy access to relief whenever needed.
Soothing and Comforting: The gentle formula of our cold relief roll-on provides a soothing sensation when applied to the chest, back, or temples. It helps ease congestion, relieve coughing, and promote a sense of relaxation, allowing your child to rest comfortably during their cold.
Formulated by Experienced Ph.D. Pharmacist: Our baby products are thoughtfully formulated by experienced Ph.D. pharmacist who have a deep understanding of the unique needs and sensitivities of infants and young children. With their expertise in pharmaceutical science and a focus on child health and safety, our products are designed to provide the utmost care and support for your little one.
Hence, BabyOrgano Natural Cold Relief Roll On offers a gentle, safe, and effective solution to ease your child's cold symptoms. With its natural ingredients, non-invasive application, and soothing properties, it provides comfort and relief when your little one needs it most. Say goodbye to discomfort and embrace the soothing comfort of our natural cold relief roll-on. Discover the natural way to find relief from cold symptoms with our easy-to-use roll-on formula for your kids.
DIRECTIONS TO USE
♦ Works perfectly for babies over 3 months.

♦ Gently roll it on baby's Clothes, Chest, Back & Bottom of the feet.
♦ For Blocked Nose, apply it on a fresh cloth & keep it aside the baby so baby can smell it.

♦ When kid is suffering from Cold, Cough, Nose Block And Chest Congestion.