Made 100% Ayurvedic ingredients with non-sticky formula, FDA and Ayush approved and GMP certified.
Regular price
₹ 349.00
Sale price
₹ 314.00
Unit price
per
Sale
Sold out
EXTRA 5% OFF
on
PREPAID ORDERS
by using Debit/Credit Card/UPI
Share
KEY INGREDIENTS & BENEFITS

✅  Olive Oil : Hydrates Baby's Skin & keeps it Soft
✅ Wheat Germ Oil : It deeply Nourishes & Moisturizes Baby Skin
✅ Shea Butter : Deeply Nourish and Moisturize Baby Skin
✅ Aloe Vera : Effectively treats Skin Rashes & Redness
View full details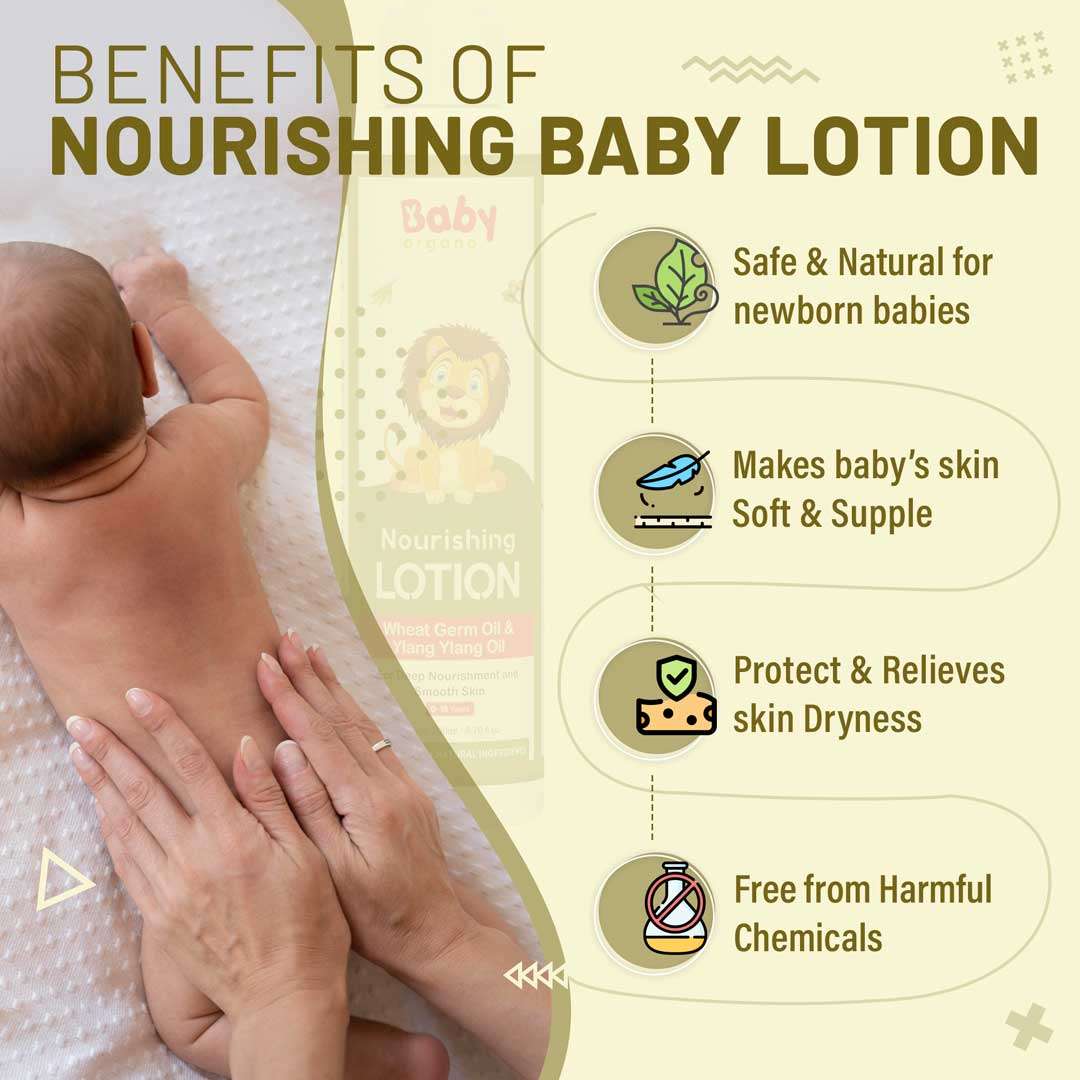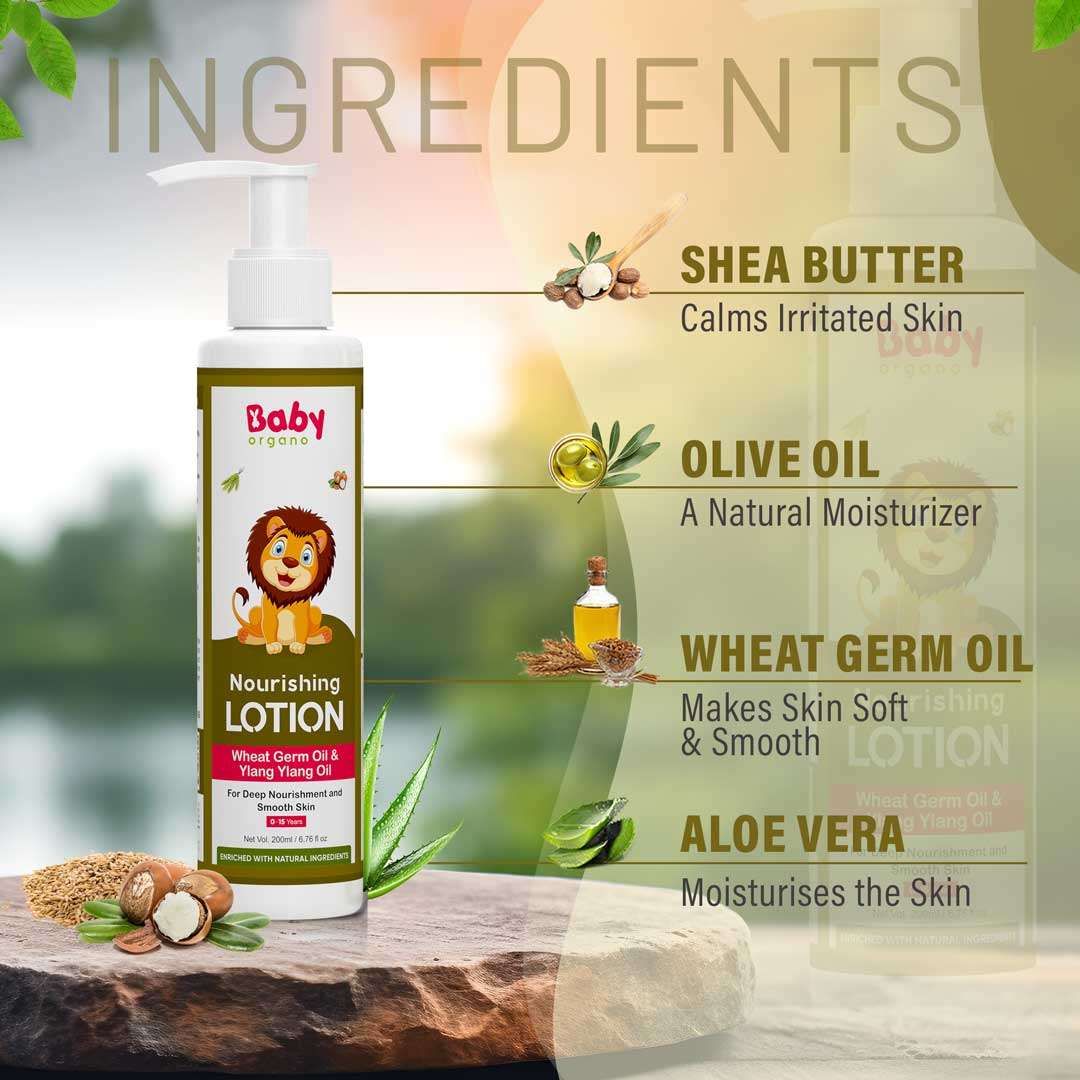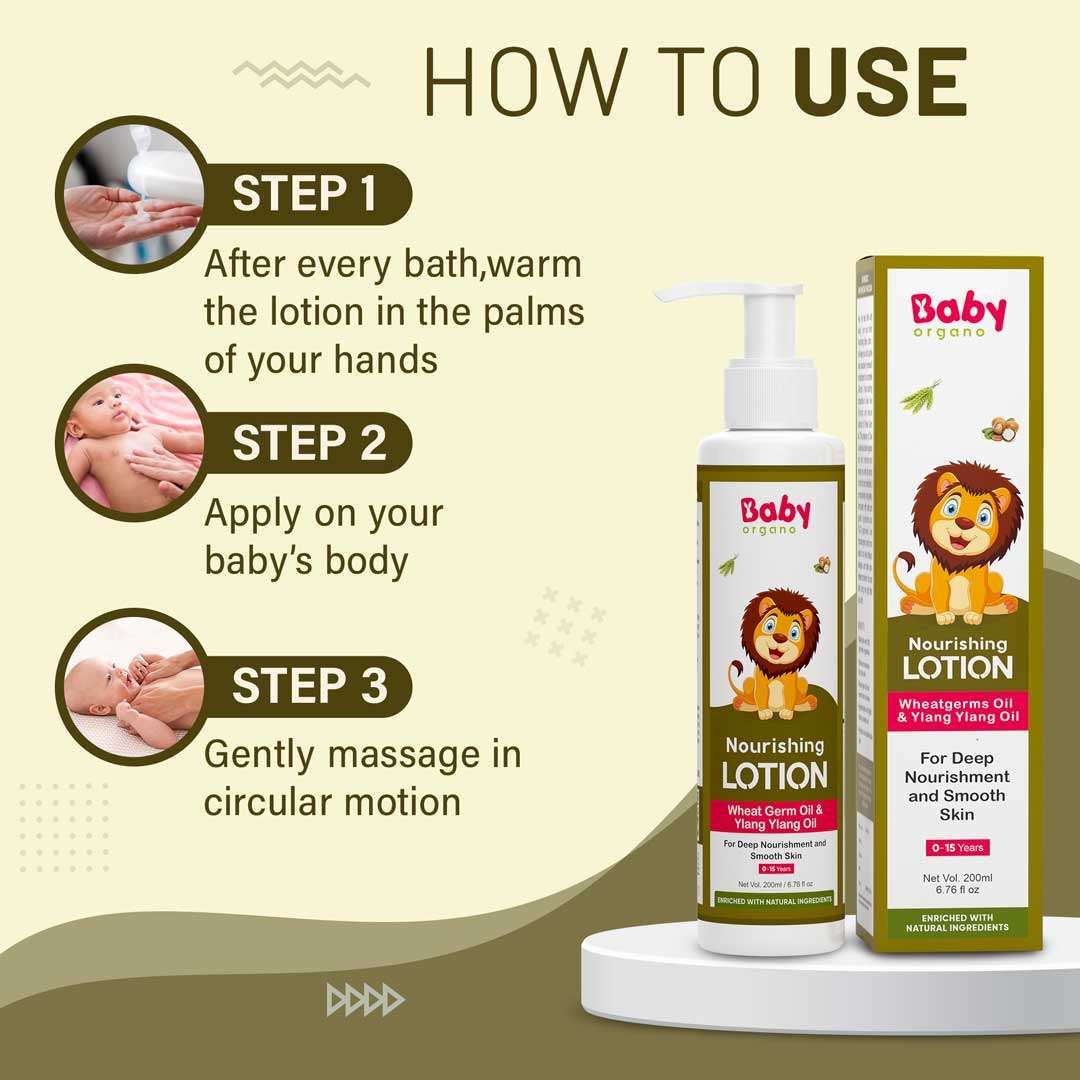 Product Description
BabyOrgano Nourishing Baby Lotion, a gentle and nourishing skincare solution specially formulated to care for your little one's delicate skin. Discover the natural way to care for your child's skin with our Ayurvedic Lotion, combining ancient wisdom with gentle ingredients for a blissful skincare experience.
Reasons to choose BabyOrgano Nourishing Baby Lotion:
Gentle and Safe: We understand the importance of using safe and gentle products for your child's sensitive skin. Our lotion is free from harsh chemicals, artificial fragrances, and dyes, making it suitable for even the most delicate skin types. It has been dermatologically tested and proven to be safe for children.
Deep Moisturization: Children's skin tends to be more prone to dryness, especially in certain weather conditions or due to environmental factors. Our lotion provides deep hydration, locking in moisture and helping to maintain the skin's natural moisture balance. Regular use of Ayurvedic lotion can prevent dryness and keep the skin soft and supple.
Natural and Safe Ingredients: It is formulated with natural ingredients such as Olive Oil, Wheat Germ Oil, Shea Butter and Aloe Vera. These ingredients are gentle on the skin and provide intense hydration all through the day and protect your Baby's skin from rashes and infections.
Dermatologically Tested: It undergoes dermatological testing to ensure their safety and effectiveness. These tests provide assurance to parents that the product has been evaluated for its compatibility with sensitive children's skin.
Formulated by Experienced Ph.D. Pharmacist: Our baby products are thoughtfully formulated by experienced Ph.D. pharmacist who have a deep understanding of the unique needs and sensitivities of infants and young children. With their expertise in pharmaceutical science and a focus on child health and safety, our products are designed to provide the utmost care and support for your little one.
So, BabyOrgano Nourishing Baby Lotion is a perfect blend of nature's goodness and ancient wisdom, providing gentle care and nourishment for your child's precious skin. With its natural ingredients, soothing properties, and holistic benefits, it ensures that your little one's skin stays healthy, protected, and radiant.
DIRECTIONS TO USE
♦ BabyOrgano Nourishing Baby Lotion can be used by the newborns as well as by the kids upto the age of 15 years



♦ After every bath, warm the lotion in the palms of your hands, apply on your baby's body and gently massage in circular motion

♦ For Best Results, use BabyOrgano Gentle Wash as cleansers, so it don't strip the moisture from the skin while Natural Oils keep skin moisturised