Easy Ways To Teach The Significance of Raksha Bandhan To Your Kids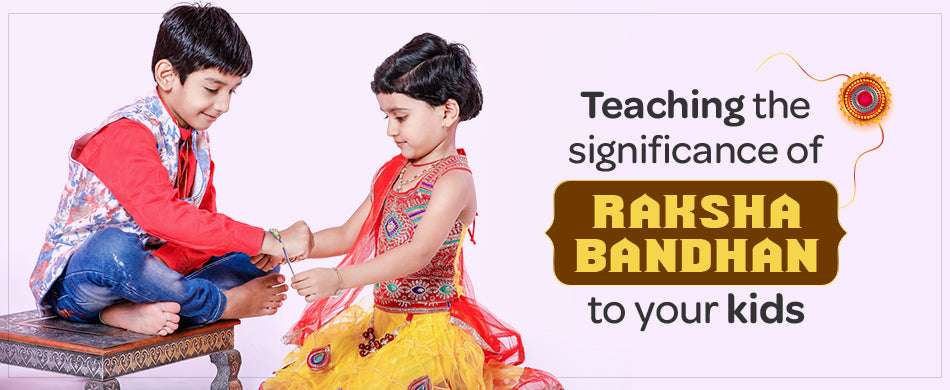 Spending a day reminiscing about the good old childhood days with your siblings and cousins is beautiful. And how joyful it is to see your kids laughing, crying, playing and growing together. Siblings and their relations are always a package of mess, madness and eternal happiness.
There are siblings by blood, and then there are individuals who choose to build an unbreakable bond and become brother and sister. In Hinduism, the day of Raksha bandhan is an especially dedicated day to celebrate the love, friendship and bond of brothers and sisters.
Hence, it is essential to educate children about our culture and explain the significance of Raksha Bandhan.
What is Raksh Bandhan
Rakshabandhan, as we split the word, Raksha means protection, and Bandhan means to tie. We celebrate the auspicious occasion of Raksha Bandhan on the full moon day of Shravana according to the Hindu Calendar, and it's mainly observed in July or August as per the Gregorian calendar.
The meaning of Raksha Bandhan is to tie a thread that symbolizes a strong bond between a brother and a sister. The knot denotes that a brother will protect and be with her sister in all circumstances.
The festival of Rakshabandhan is not only confined to brothers and sisters, but people celebrate Raksha Bandhan even with cousins, sisters, sister-in-law, nephews and other relations one chooses.
How to explain the importance of Raksha Bandhan to kids
As we celebrate different festivals according to our culture, traditions and rituals, everything we perform on that day instigates curiosity in the child. Kids are incredibly sharp observers and are keen to know the importance of the celebration. It is always a good idea to explain to the children instead of just performing the rituals.
Therefore, before the day of Rakshabandhan, sit with your kid and tell them the importance of Rakshabandhan. We celebrate the day because it's the festival that emphasizes and cherishes the emotional bond between two people who decide to protect and pray for each other till eternity.
When a sister ties a rakhi (a colorful and decorated thread) on his brother's wrist, it means that she is asking her brother to guide and guard her, and she also prays for his endless prosperity. At the same time, the brother offers gifts to his sister, which indicates his commitment to her well-being and protection.
The easiest way to explain the significance of the rakhi festival to kids is by narrating stories, and stories help children to strengthen their imagination.
You can also show them movies, videos, animated videos and other short stories explaining everything about Raksha Bandhan. Visual learning helps kids to grasp better.
If there are street plays or drama, you can also take your child to witness the exciting way of storytelling.
What is the reason for celebrating Raksha Bandhan
Every festival in India comes with a substantial history. The reasons to celebrate Rakshabandhan are splendidly depicted in Hindu mythology and history. You can easily share the history of Rakshabandhan with your kids and hand over the information about our culture to the future of our country.
How to celebrate Raksha Bandhan with your kids
In an evolving era where modernization is almost surpassing the roots of Indian culture, it becomes essential to teach your child how to celebrate Rakshabandhan authentically.
The main ritual is to make the brother sit on a chair or in a comfortable place. Then do the vermilion tika on their forehead, followed by the rice grains. Perform the aarti of the brother, tie a thread on their wrist, and offer sweets to each other. Pray for their immense growth, prosperity and safety. You can also visit relatives with your kids and celebrate the rakhi festival with their cousins and the entire family.
Additionally, involve your kids in creating DIY rakhi or greeting cards for Raksha Bandhan. Engage your child in fun games, family time and other activities that help them learn more about the significance of Rakshabandhan. Let your children enjoy the vibrant festival to the fullest. Happy Raksha Bandhan!
---