Fun Outdoor Activities For Kids On A Rainy Day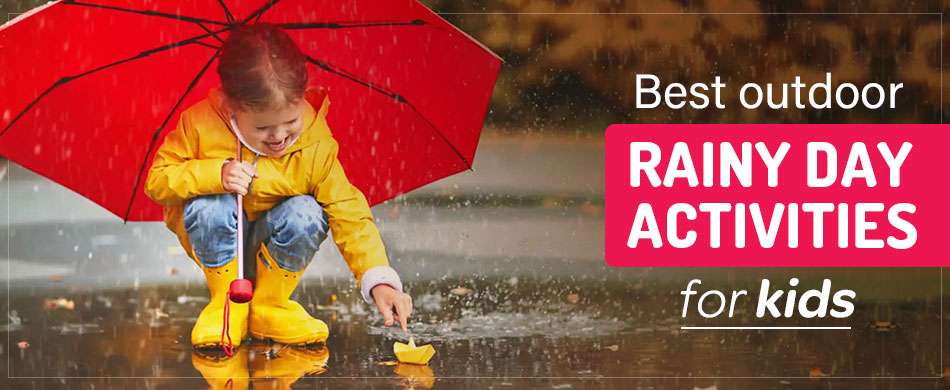 Monsoon memories are extremely cherishing for life. The days when we were drenched in the rain, joyfully jumping in puddles, the mud play, the rainy day walks and a lot more fun activities. Hence, it's time to make the kids fall in love with the most admirable monsoon season.
As parents, a child's health remains a significant concern, and we tend to keep them inside to protect them from infection during the rainy season. However, it is vital to get out of the house with your child, let them feel the rain and capture those adorable moments.
Regardless of the season, kids love water and would be obliged to spend their time in nature showers. Therefore, let this monsoon be memorable for you and your kid. It is simple, do what you did, and your kid will enjoy it to the fullest. However, to make your task more accessible, we've listed some enjoyable outdoor activities for kids on a rainy day.
A walk in the rain
All you need to do is grab an umbrella, carry a raincoat for your kids and the proper boots and step out for a walk in the rain. Walking in the rainy season is so therapeutic yet thrilling. Children begin to have a pleasant time when you take kids for a walk when it's raining outside.
Observe the trees, branches, and bushes together and see how nature looks, all drenched in the rain. Let your kid sing and dance in the rain and ensure to be a part of it. You can have a walk in your neighborhood area or Local Park, or your child's favorite spot.
Get creative with the mud
Let mud be the core element of your rainy day activities with kids. Accompany your child with painting with the mud, and let the muddy strokes create a beautiful painting. Involve your kiddo in making a mud-licious pie with the help of mud, leaves, stones and pebbles.
You can also encourage your child to create mud sculptures. It is all fun to see children being creative with the mud and shaping it into amusing sculptures. If you're up for the extreme adventure and a lot of post-cleaning, you can have a mud bath.
Catch and collect raindrops
Catching raindrops in the mouth is always a fun activity. Let your child try to catch the raindrops in their mouth. Moreover, get different container shapes from your home and place them in the backyard to collect raindrops. Allow your kid to observe different sizes of containers and estimate which container will fill in first.
Click pictures
Do not forget to carry a waterproof camera when you step out in the rain with your child. Let the kid gauge the rain and observe the minute details of nature after the rain or when it's drizzling.
See the kiddo be curious about droplets on the leaves, the flowers, the rainbow and everything they're witnessing for the first time. And, when the toddler is engrossed in enjoying the rain, do click his pictures. Also, capture those precious moments with your child.
Safety measures to follow before stepping out in the rain
Do not step out during a thunderstorm or lightning. Prefer to stay indoors in such situations.
Carry all the rainy day essentials with your kiddo before moving out in the rain.
Dress the child in a comfy raincoat and boots that don't make them slip.
Always have a careful eye when walking in the rain as the water can be deep as you move ahead. Walk only on the shallow water.
Constantly be with your children and supervise them if they're involved in an activity but never leave them alone for safety reasons. Happy Monsoon!
---