How to Select the Right Toys for Your Toddlers?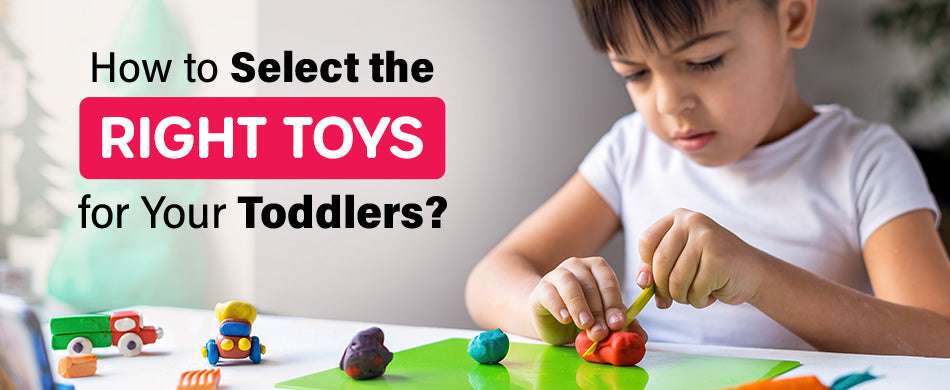 Kids of all ages love toys, and parents tend to spend a considerable amount of money in buying their kid's favourite activity toys to bring that beautiful smile to cute faces. However, purchasing toys with the altering interests of a baby is tricky. There are different types of toys for toddlers that focus on a specific skill development while engaging the child.
The baby's interests, likes, and dislikes change quickly, which means that as parents, you need to be careful when making a choice. Also, the toys should lay the foundation for future learning as the toddler will soon be a pre-schooler. Ideal age appropriate toys for children are safe, fun-filled, and match the child's current developmental phase.
In this guide, we will focus on the right toys for toddlers and selecting them appropriately since the excitement and engagement would stimulate the developing brain and nurture emotional, social, and cognitive skills in your baby.
Understanding How a Toddler Plays
Undoubtedly, every child has different choices and interests when it comes to toys, but still, there are some aspects common in each toddler that every parent should know before selecting. Toddlers tend to observe and interact with the surroundings and objects of their interest; hence, simple musical toys and rattles may not be valid anymore.
Some children even get curious to know how a toy functions, which encourages them to explore. Also, this is the age at which pretend play comes to light. You may see your tiny tot babying his doll with the same love and care as you do for your baby. This indicates that he now understands the emotional and social involvement.
Your child may be imitating sounds like ringing bells, vehicle sounds, and more that he hears daily, which means that he can now associate a sound with an object and its purpose. This is the phase when the child starts differentiating shapes and colours, so you should choose toys that vary in size and bright colours that appeal to the baby. You should offer different types of toys for toddlers and let them master the new skills before introducing a new concept-based toy.
Some Engaging Toy Options that Parents Should Explore
Children aged 1-3 are considered toddlers, and as they grow from their first birthday to being 3, they acquire various skills. Here are some toys that you should consider buying in this span:
Different sizes of Balls: Your child will learn to grab the ball and throw it when he turns one, so you can choose a big-size ball to boost gross motor skills along with hand-eye coordination.

Initially, the baby will use both his hands, and later on, you can introduce smaller balls that the child can bounce, roll, and throw with one hand. You can also let the tiny feet kick the ball on even surfaces and play around to strengthen the muscles.

Colour and shape sorting: You will be amazed to see your energy-packed baby quietly sitting and focusing on matching shapes. This indicates that he has upgraded his intellectual level and can now easily sort similar objects.

This is termed as a problem-solving skill that helps a lot in school. You can opt for nesting cups or shape puzzles where there are dedicated holes for every shape.

Puzzles: Puzzles are an amazing way to stimulate your child's brain. You can begin with simple puzzles that have 2-4 pieces and eventually move to the more complicated ones as per your child.

To make this activity more interesting, choose themes like vegetables, animals, fruits, etc., that would excite your child. There are innovative peg puzzles that allow proper grip for tiny hands.

Blocks: Colourful blocks are the undisputed winners when we talk about age appropriate toys for toddlers. They have been there for ages and are there to stay for a long; only the designs and patterns have changed over time.

Unleash the creative side of your baby and let him design his own set of fun figures.

Child-safe crayons: Children love to scribble a lot, and hence, you should invest in child-safe crayons that allow the baby to develop a grip that later on would help in proper pencil grip. Do not focus on the tidiness and give the baby free-hand to use his creativity.
Mechanical toys: The innovative mechanical toys are the busy boxes for your little explorers with levers, knobs, and buttons.
Ride-on:: Introducing a ride-on is a great way to encourage physical activity. You can choose push ride-ons, tricycles, and scooters- there are a lot of choices for your baby. Such toys allow for attaining body balance and brain-body coordination. You can choose character-based ride-ons to enhance your baby's interest.
Role-play activities and toys: Introduce your toddler to pretend play since now he has the capability to imitate and implement his thoughts. Let your child be a chef, doctor, golf player, or cricketer, whatever he wants to imitate.

Let him shush his dolls and stuffed toys and arrange a party or prepare food for them. It's his world, and he should get to decide what role he wants to play each day.
10 Tips on Choosing the Right Toys for Toddlers
We understand that parents want to pamper their tiny tots with the best toys, and thus, sometimes, they tend to buy a lot of them at once. This is a wrong practice as giving many toys at one time will only divert the attention of the child from one to another, which means he will develop a tendency to get bored easily and, later on, refuse to sit and play with one toy at a time.
This will pose a challenge, and therefore, parents should act responsibly while buying toys and introduce them gradually. Here are 10 tips that you should consider when going for a toy shopping spree:
Buy age appropriate toys: Do not pick up toys randomly just because you find them eye-catching and believe that your toddler will love them. Instead, check the pack for age recommendations since every toy is designed to match a child's age-specific needs and also to ensure safety.

You should prefer toys that have bigger pieces since your baby is still very small and might put the parts in the mouth while playing. This can pose a choking hazard; therefore, always check the warnings mentioned on the pack before tossing it on the billing counter.

No marketing gimmicks, please: Toy brands promote their products in the market to reach out to the masses, but sometimes, it can be a marketing gimmick to create hype about the new launch.

Parents get attracted to such toys and buy them even if it does not match the child's play requirements and intellect. It is suggested to buy toys as per the early skill sets that the child has or is developing so that the baby enjoys playing.

Let the child explore household items as his toys: For ages, children take pleasure in playing with household items that they find around them, like spoons, cardboard boxes, paper bags, etc. These toys are fun and do not need you to spend money.

Just make sure that you keep the baby away from sharp or choking objects. Keep a check on your baby when he plays around, as he may pick some heavy things and might get injured.

One at a time: You may want to buy different types of toys for toddlers when you visit the toy shop. Go ahead, but also make sure that you only give one toy at a time and allow him to master the skills involved in playing. Once you are confident that the baby has achieved the milestone, it is time for the next toy.
Buy non-toxic plastic toys: Always invest in non-toxic, child-safe toys to avoid any unwanted incidents. Your child might put the toy in his mouth during play, and hence, it should be inert and chemical-free. Good quality branded toys are a great buy since the companies make efforts to design and develop toys for children.
Create your own toy: Remember your childhood when your parents would make small toys for you? The paper boats and spinning wheels were oh-so-exciting, and believe us, your tot will equally enjoy them.

Spare some time together and make your own toy with simple objects and see the startling little eyes. This process will also strengthen your bond with the baby as you will spend some quality time together.

Avoid shooting and loud toys: The new generation of kids loves gadgets like drones, helicopters, musical guns, etc. But may do more harm than good. While shooting or flying toys may hurt the kid, toys with loud music can harm the baby's hearing abilities.
Invest in premium stuffed toys: Stuffed toys are every child's first love as there are numerous appealing characters. Make sure you buy premium stuffed toys with secured edges, tight seams, and sturdy stitches. Also, go in for washable options since your baby might dirty them frequently.

Avoid oversize stuffed toys since your child will struggle to pick and carry them around. Buy small toys that your little one can easily carry around in the house.

Avoid hobby kits: You may want your child to acquire skills quickly, but allow the budding learner to learn at his own pace and understand that hobby kits aren't ideal for toddlers.
Buy approved electrical toys: If you want to buy electrical toys, prefer ones that have been checked and approved. This helps ensure the safety of the child during playtime and lets you stay content.
Key Takeaways
So, this was a complete guide for parents like you that can help in the toy selection for your toddlers. Selecting age appropriate toys for babies has a crucial role in developing skills and boosting the brain.
The toddlers soon step into a phase where they can comprehend and associate activities around them. Thus, toys should cater to their needs and assist in abilities for future learning. Purchasing toys for toddlers is exciting for parents, and with the right strategy, one can achieve the combined benefit of learning and entertainment.
Let your child grow and enjoy his childhood with the best toys. A happy child playing with the right toys is set to be a bright and smart child in the future.
---