Tip & Remedies to treat Rashes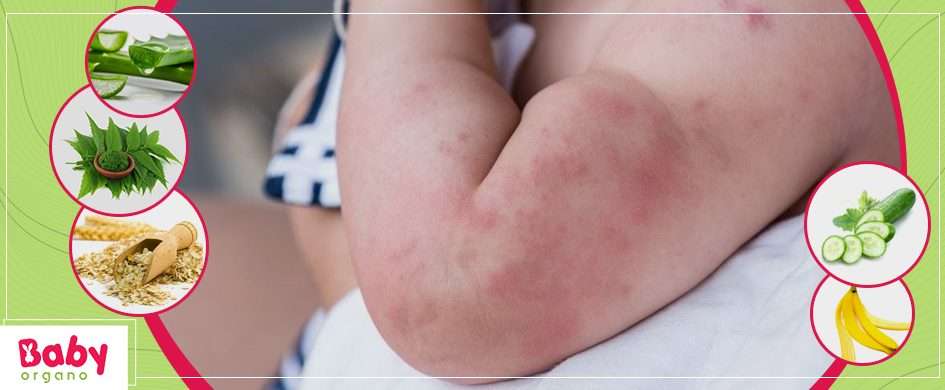 Baby rashes on the face or on the bum are very common, itchy and painful. But before you jump to any conclusion, let us look at the types of rashes babies can have and what can be done to cure those using natural ways.
Acne: These are the little red bumps on the skin but they do not progress to black or whitehead. This is one of the most common skin rash in babies.
Milia: It is the white bumps just like whiteheads that appear on nose and cheeks.
Dry skin or Flaky: Skin patches become dry like in adults and can be swollen if not treated on time.
Eczema: These are the rashes that are red and swollen, can be witnessed especially on chest area.
Cradle cap: This rashes usually appear on the scalp and are red with yellowish greasy crust. If left untreated, it can spread to baby's ears, neck and arms.
Prickly heat: These are the red bumps often confused with acne. These appear in the places prone to sweating and overheating like armpits and neck.
Diaper Rash: These rashes appear on baby's diaper area. It occurs when you use disposable diaper instead of cloth diapers.
Home Remedies to treat Baby Rash
Aloe Vera
Aloe Vera provides the most miraculous cure for rashes. Extract the gel out of the aloe leaf and apply on the infected parts. This helps to calm the itching and skin irritation.
Neem
Neem's antifungal and anti-inflammatory properties works wonders for baby rashes, especially for eczema. Prepare the paste of the neem leaves and apply on the rashes and rinse it with warm water after few minutes.
Oatmeal Blend
Oatmeal has high content of antioxidants, hence makes the most effective home remedy to treat rashes on face and body! Grinding oatmeal and water using blender and make the paste. Apply the paste on rashes and rinse it with water in few minutes.
Cucumber
Cucumber works instant to alleviate the symptoms of rashes and provides relief. Take the cucumber slices and rub it gently on the rashes.
Banana Peels
It is one of the unique home remedies to treat skin rash. Refrigerate the banana peels for an hour and apply on rashes. This will make you see the difference almost immediately.
Tips to prevent skin rash
Use gentle baby detergents for washing all baby clothes. Harsh products may lead to rashes.
Keep changing the diapers frequently. Over exposure to pee, moisture and poop definitely leads to skin rashes.
Pat dry baby's skin thoroughly before applying any moisture. Applying cream to slightly damp body part can also lead to rashes.
While bathing your baby use mild cleanser and use warm water instead of hot.
Limit the consumption of acidic and citrus food and if you're breastfeeding, control your own consumption on acidic and citrus products.
To prevent prickly heat rashes, make your baby wear loose clothes that allows their skin to breathe.
Keeping in mind these little things and using natural remedies instead of the store-bought creams that contain chemicals is always a better option. However, if these remedies do not work then you need to consult for paediatrician for further cure.
---