Top 5 Benefits of Cocoa Butter for Babies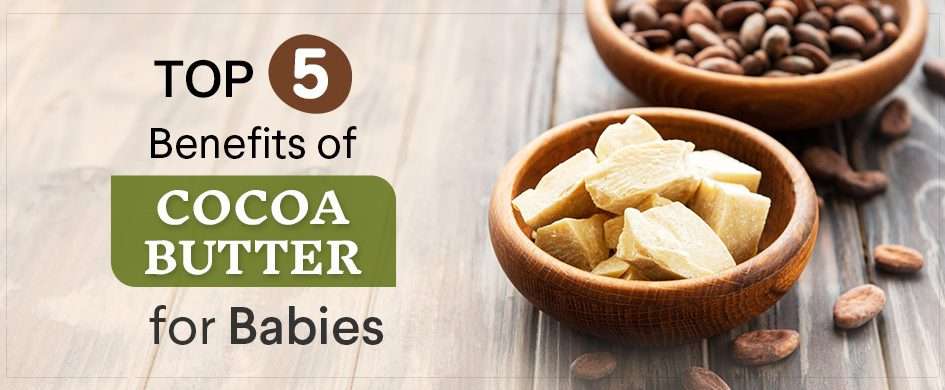 What is Cocoa Butter?
Cocoa(cacao) Butter is the same rich and decadent chocolate secret which can be used to make desserts, fudges and cakes. Besides being the delicious chocolate which every kid craves for, cocoa butter also benefits the baby skin naturally. Cocoa butter also called theobroma oil is a type of fat derived from the cocoa beans. At first, the cocoa beans are taken from the cocoa plant, which then are roasted, stripped, and pressed to separate out the fat—the cocoa butter.
Why Should You Use Cocoa Butter?
Heals dry skin as moisturizer
Prevents rashes and scars
Lightens dark patches on baby skin
Stimulate the growth of thick, long and strong hair
Hydrates soft, sensitive baby lips
Heals Dry Skin As Moisturizer:
Cocoa butter is a natural antioxidant and is rich in fatty acids, vitamins and minerals. This helps protect your baby skin from dryness. Instead provides that moisturizing healing effect to your baby skin and makes it supple and soft. So from next time, while choosing your nourishing baby lotion you can check for the ingredient: cocoa butter.
Prevents Rashes and Scars:
Babies usually have a sensitive skin and no matter how much we take care of, they are prompt to get scars or rashes frequently. Here comes the relief: Cocoa Butter based lotion can help your baby's damaged skin. Apply it regularly and you can see the scar fade away without any side effects.
Lightens Dark Patches:
Unlike the pigmentation in adults, a baby skin care condition doesn't allow acne, white heads or black heads to prevail. But even then, dark patches may appear because of the wounds which a naughty toddler can get by various reasons. Applying organic cocoa butter will make the darker spots diminish, and the skin will be restored to its natural health.
Stimulate the growth of strong hair:
Cocoa butter is well known to treat scalp issues in babies including dandruff or hair fall. Applying some melted cocoa butter in your baby's scalp can be soothing as well as effective. Therefore, cocoa butter is a guaranteed hair fall solution to your lovely kid and makes his hair stronger and healthier.
Hydrates Baby Lips:
A tiny bit of cocoa butter has that magical power which could heal the chapped and cracked baby lips. Not even the cocoa butter helps your baby get the glowing skin but also does wonders to those little lips. Thus a lip balm infused with cocoa butter will nourish your baby lips as well as make them soft and supple. Here's our BabyOrgano Organic Lip Balm with organic ingredients with zero side effects for babies.
Other Cocoa Butter Uses
Soothes skin conditions like eczema and dermatitis
Maintain the softness and suppleness of the skin
Eliminates dandruff and supports hair growth
Protects skin from sun damage/sun tan
Nutritious for health
Prevents pregnancy stretch marks
Calms join pain and improves flexibility
---