Summer Ayurvedic Ritual for Skin Care of Kids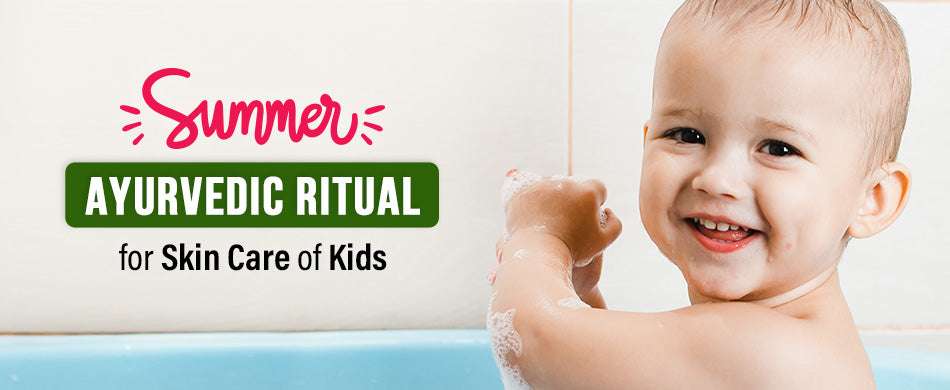 Summer Ayurvedic Rituals can provide numerous benefits for children during the summer season such as cool the body and mind, relieve stress and anxiety, improve sleep and boost immunity.
Here's a Summer Ayurvedic Rituals for Skin care of kids using Ayurvedic products:
1] Cooling Ayurveda Baths: Give your child cool baths or showers to help them stay refreshed during hot summer days. Look for wash containing Ayurvedic herbs like Neem, Chickpea, or turmeric. These herbs have antimicrobial and cooling properties, which can help prevent skin infections and soothe the skin during summer.
Cleansing is the most basic yet potent step in any skin care ritual. The BabyOrgano Gentle Body Wash is made of natural ingredients like Neem, Aloe Vera, and Turmeric offer antibacterial, soothing, and antioxidant properties , which  promote healthy skin and prevent skin infections of your little one's.
2] Ayurvedic Bath Powder:  Instead of using regular soaps for kids, use an Ayurvedic bathing powder infused with herbal ingredients. It should contain Ayurvedic herbs like Neem, Tulsi (holy basil), or Turmeric. The BabyOrgano Natural Ubtan is made of natural ingredients like Sandalwood, Chickpea, Neem and Green Gram.
Suitable for New-borns and all skin types, this Natural Ubtan protects the skin and gives the baby a soft texture. This is 100% Ayurvedic product is free of chemicals and is FDCA approved.
3] Moisturization:  After bathing, apply a gentle and natural moisturizer to your child's skin. Look for products containing ingredients like Aloe Vera, Coconut Oil, Shea butter, or Almond Oil. These ingredients help to soothe and hydrate the skin, preventing dryness and maintaining its natural moisture balance.
The BabyOrgano Nourishing Baby Lotion is formulated with natural ingredients such as Olive Oil, Wheat Gram Oil, and Shea Butter. These ingredients are gentle on skin and provide intense hydration all through the day.
4] Apply Baby Powder: Use Ayurvedic herbal powders to keep your child's skin fresh and dry. Powder that are applied to the kids body help to absorb oils and moisture from the skin to leave it soft, smooth and lightly scented.The  BabyOrgano Soft & Gentle Baby Powder is made with 100% Ayurvedic  herbs such as Tavakshir, Yashad Bhasma, and Lavendar which keeps  baby's skin soft and rash free.
Carefully and lightly apply the powder to areas where sweat and moisture tend to accumulate, such as the underarms, neck, back, and inner thighs. Gently massage the powder into the skin.
---