The Must Have Ayurvedic Products For Infants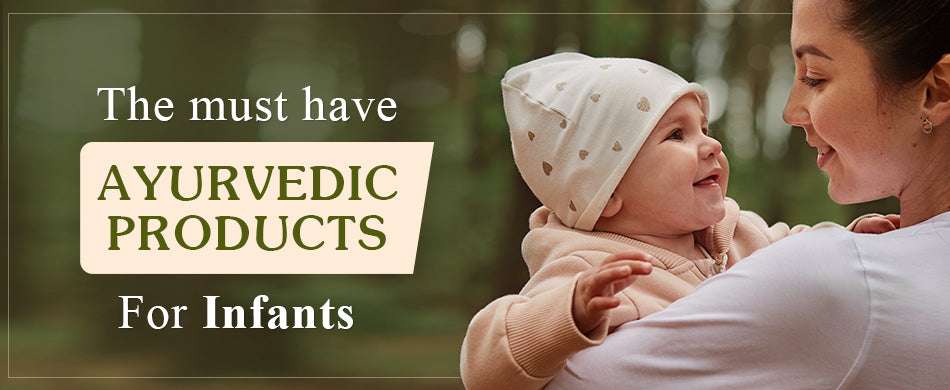 Every parent aspires to provide the best of everything to their child right from the day a baby is born. Parents pick all the perfect choices, whether it's their food, medicines, clothes or toys. But, irrespective of deep research of a baby's wants and needs, parents still miss out on or are unaware of some significant factors affecting the infant's overall health. So, to ensure that the mothers, specifically new mothers get an insight into the world's oldest healing system called Ayurveda.
The powerful healing principles of Ayurveda are key to shaping a child's overall health. Modernization has eased the benefits of ayurvedic medicines and herbs in the form of finely made products. Hence, it is vital to make Ayurveda part of a baby's routine to witness the ultimate health benefits of Ayurveda.
We've handpicked the list of ayurvedic products to clear the confusion regarding the must-have ayurvedic products for newborns.
Baalprashan Drops
Administering Baalprashan Swarnaprashan drops to infants is the ancient approach to improve the infant's immunity. Suvarnaprashan for kids is a quintessential combination of herbal extracts and ash of gold in the semi-liquid form. The Baalprashan drops are a unique concentration that detoxifies a baby's body, boosts their immune system and increases a child's physical and mental health. Moreover, the product is easy to carry and gives even to the fussiest child as it tastes palatable.
Natural Cold Relief Roll On
Babies are prone to catching colds and coughs as their immune system is in the development phase. Common cold in children causes discomfort, leading to runny nose, fussiness, and trouble sleeping due to infant nasal congestion. Hence, mothers should always keep a cold relief roll on their child's essentials kit. The BabyOrgano Natural Cold Relief Roll-On is a great solution for kids suffering from cold, cough, chest congestion and nose block.
Natural Ubtan
Ubtan is an age-old and highly approved natural exfoliant. It cleanses the skin by removing dead cells, makes skin lustrous and provides enrichment to the skin. A Baby's skin is the most delicate and sensitive, which requires extra care and nourishment. So, mothers feel sceptical about using ubtan for infants as it may give the infant a burning sensation or cause skin irritation. But, BabyOrgano Natural Ubtan is safe and works wonders for babies over one month. The chemical free and purely made from natural ingredients, Natural Ubtan is suitable for all skin types, giving all-around enrichment to the baby's skin.
Soothing Baby Massage Oil
Shishu abhyanga, also known as the baby massage, is essential to an infant's nourishment process. The traditional way of massaging a baby with the oil is the most advantageous process for building immunity, neurovascular wellness and overall development of the toddler. Therefore, it is crucial to choose a suitable, safe and soothing baby massage oil for babies. BabyOrgano Soothing Baby Massage Oil is made of 100% natural and ayurvedic herbs to provide the best results for your baby's soft skin.
Hing Roll
The infant's body takes time to adapt to the environment and may also not have a bowel movement for a day or two. Babies develop indigestion, gas or colic because of their weak gut health. Hing, also known as asafoetida, functions as a great healing agent for stomach-related issues in kids. So, here's the BabyOrgano Hing Roll, a mess-free and handy solution for indigestion in kids with a blend of other essential oils and healing properties.
Gentle Baby Body Wash
Baby soaps consist of a bit of alkaline, which remains acidic for the baby's sensitive skin. Therefore, soaps are a big no for newborn babies. Instead, it is safe and smart to use body wash for infants as it doesn't overdry the skin and maintains natural oils. Baby's skin demands no experiments, so using 100% natural, toxin-free, and gentle body wash is highly recommended. BabyOrgano Gentle Baby Body Wash is a hypoallergenic, safe, dermatologically tested and tear-free formula for baby's skin.
These were a few natural and chemical-free products to use for infants. However, despite the utmost assurance of safety and suitability, it is still recommended to consult your paediatrician before using any products on your child. Every child has a different body and skin, so it is important to be sure, and then you can shop for the best natural baby products from the myriad of options to choose from for your infant.
---